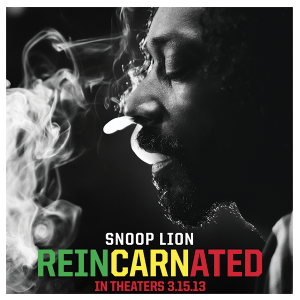 Reincarnated
Vice Films
Released date: March 15 (check local listings)
When gangsta rap legend Snoop Dogg announced he was changing his name to the more Rastafarian-friendly Snoop Lion last summer, cheesy jokes and corny accusations ensued. How does a hardcore rapper morph into a peace and love Rasta? Not too seamlessly. It's clear after a viewing of Reincarnated, the new documentary following Snoop in Jamaica as he records his latest – a reggae album entitled Reincarnation, that the rapper's familiarity with the genre stops at Bob Marley and, of course, ganja. The full-length film offers glimpses of Rastafarian culture with a few hints at Snoop's inner perspective.
Onscreen, Snoop dabbles in various Jamaican activities, from picking grapefruit to scaling the Blue Mountains for premium weed. The scenes come off like a commercial pushing tourism. Although reggae stars like Bunny Wailer and Damian Marley appear to guide Snoop through the streets of poor communities like Trench Town and Tivoli Gardens, the film rarely gives an authentic glimpse into his sudden musical transformation.
Producer Diplo joins him in the studio and we hear snippets of tracks like "Smoke Da Weed," where Snoop perfects a Jamaican accent and adds a sing-song style to his legendary drawl. But we don't learn much about his decision to become a reggae star. He explains how "Rasta music can take them back to the beginning, it was all about love and positivity, not killing and violence." He also admits to being "at the forefront of the most violent hip-hop" and that sometimes his music reflects "a phase you go through, finding out who you are." Scenes of the rapper at close friend and fellow MC Nate Dogg's funeral last year provides the most convincing images of an artist grown weary of the hardcore game.
An image of Snoop waving to throngs of screaming fans from a wall in a Kingston slum points to the real connection that he has with reggae. Hip-hop and reggae both began as message music for the voiceless. Recognizing the conditions in Kingston as similar to the ones he grew up with in Long Beach, Calif., he explains, "Hip-hop is a form of reggae, reggae is a form of hip-hop." Most casual hip-hop fans don't realize the connection, but all the forefathers of hip-hop came to New York from the Caribbean, with Kool Herc specifically bringing the dancehall sound he heard in Kingston. He married the sound system tradition of "toasting" over rhythms to grittier, New York-friendly, beats and helped create the force now known as hip-hop. Snoop declares that he came to Jamaica to "find the truth." Watching him spitting freestyle over a ska melody performed by a boys band, perhaps he did.
— Rosalind Cummings-Yeates