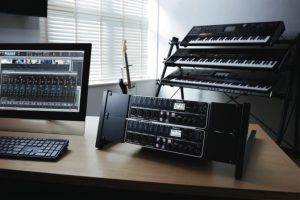 Roland
Studio-Capture USB 2.0
Roland's Studio-Capture USB 2.0 Audio Interface is the new flagship sequel in the Capture family of computer-based recording interfaces for home studios.
Its biggest selling point is its 12-mic preamps, built with premium-grade components, that deliver "exceptional low-noise performance, high headroom, and transparent sound quality," according to Roland.
Each mic channel offers independent phantom power, a low-cut filter, phase invert, and digital compressor, which has the same algorithm as Roland's V-Mixer, all accessible via the included software control panel and front panel.
With a total of 16 input channels and 10 output channels, Studio-Capture is equipped with plenty of I/O's (input/output) for large-scale recording projects and composing setups with multiple synthesizers and other devices. Digital I/O's are provided on coaxial connectors, while MIDI I/O's feature Roland's proprietary FPT processing for faster high-speed performance.
Roland's updated streaming driver delivers high-resolution, 24-bit recording at rates up to 192 kHz, with low-latency USB connections. Two units can be combined, allowing users to expand I/O's on the same USB bus without compromising audio quality. Roland's Auto-Sens feature sets an ideal recording level for each input automatically.
Current Macintosh and PC DAW platforms are supported through ASIO 2.0/WDM (Windows) and Core Audio (Mac) drivers.
Front-panel LED meters display levels for individual input and output channels. The Monitor Out section features a dedicated Level knob for control room volume, plus a Direct Monitor knob for listening to selected input signals. Two headphone jacks with individual volume controls are also provided.
Studio-Capture features four software-controlled direct mixers to set up independent monitor mixes and route them to headphones, speakers, or other recording and mixing devices. A reverb/delay processor is available for monitoring, allowing performers to record dry tracks while listening to great-sounding ambience effects. MSRP shows a price of $1,150, with street prices in the $1,000 range. For more information, visit
RolandConnect.com
.
HAL LEONARD BOOKS
Studio One For Engineers And Producers Guide
Hal Leonard Books, the "granddaddy" of of books on the music and audio industry, released Studio One For Engineers And Producers. This instructional guide is  designed to help "intermediate" engineers and producers who are already comfortable using another DAW (digital audio workstation) and recording software platforms (like Pro Tools and Nuendo) make the transition to PreSonus' Studio One recording platform. The author and audio engineer Bill Edstrom Jr. says: "I've done projects in just about every DAW on the market. To use most of these systems you need to be in a very technical frame of mind. I was looking for something simpler – something to get creative songwriting ideas out. That's when I discovered Studio One."
The book starts by sharing Studio One's layout and functionality, compared to other common DAWs, to identify the most important similarities and differences. It then follows the creative process through the normal progression of modern recording/production.
The book is accompanied by 12 video tutorials covering its key concepts.
Edstrom, a Milwaukee-based studio boffin and author, made his mark in the biz with his YouTube video tutorials on DAW technology, mixing, and mastering.
The guide retails for $16.95 and is available at local music retailers that carry music books or at
halleonardbooks.com
.
Auralex Acoustics
HoverMat Isolation Mat
Auralex Acoustics was one of the early pioneers of pro and home studio acoustical treatments, and its now shipping its HoverMat Isolation Platform.
Auralex wants drummers to get rid of those oriental rugs, because their HoverMat "is a sturdy, slip-resistant drummers' mat that improves acoustical isolation and clarifies drum tone."
Much like their acclaimed HoverDeck Isolation Riser, the HoverMat isolates a drum set from the floor or a hollow stage, reducing coloration from floor "rumble" by decoupling the drum kit, resulting in a "tighter, more pure sound for both studio and live applications."
The HoverMat and HoverDeck can be used in combination for extra isolation.
The HoverMat comes as a 4'x6′ section of Auralex's sound-deadening SheetBlok sound barrier material, covered with charcoal gray commercial-grade, road-worthy carpet. The mat can be rolled up after a show or session with its heavy-duty cinch to make it an easy fit in the van with your kit. MSRP is $269, with a street price of $200. Visit
auralex.com
for details.
IK MULTIMEDIA
Jimi Hendrix™ Anniversary Collection
Italy's IK Multimedia has joined with Authentic Hendrix, LLC to release the Jimi Hendrix Anniversary Collection, an expanded and updated version of Hendrix software for Mac and PC, featuring new officially-licensed, ultra-accurate models of genuine Hendrix gear. The updated set provides users with even more options for tapping into the guitarist's legendary sonic artistry.
In honor of his 70th birthday, the new collection features four amps, seven guitar cabinets, five microphones, and various effects and other vintage gear that shaped "the Hendrix sound." The software, which can be used as a DAW plug-in or as a standalone application, features a built-in four-track recorder and speed-trainer. Along with the collection, all the Hendrix models can be purchased individually from the Custom Shop. Details available at
ikmultimedia.com
.
News & Notes
Our friends at
Vic's Drum Shop
(345  N. Loomis in Chicago's Music Garage) are hosting an in-store drum clinic with
Mark Schulman
(drummer for Foreigner and Billy Idol) on March 9 at 11 a.m. Tickets and details are at
vicsdrumshop.com
.
The
2013 Wisconsin Vintage Guitar Show
will be held on March 10 at Milwaukee's Crowne Plaza Hotel from 10 a.m. to 5 p.m. Guitarists can buy, sell, trade, or just browse. Admission is $6, or $5 with a guitar; $4 for kids. For more info call 920-467-4762 or
wisconsinvintageguitarshow.com
.
–David Gedge