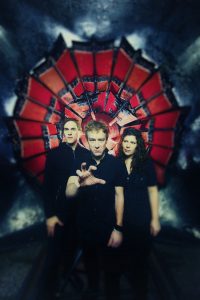 Low's frontman Alan Sparhawk hates the term "sweet spot." Even if he can't quite put a finger on why, those two innocuous words slammed together send a shiver of disgust down his spine. He's not the only one with word rage. His wife and partner in the long-running Minnesota-based trio, Mimi Paker, despises the descriptor "tasty licks."
Not that the master of minimalism called from his home's basement in Duluth on a particularly frigid morning (aren't they all up there?) to discuss linguistics. But he brought the cringe-worthy phrase on himself when characterizing Jeff Tweedy's Grammy-winning work with Mavis Staples. Sparhawk was especially impressed with how the Wilco Grand Poobah/Chicago deity/ace producer captured the singer's essence not only on the pair's first outing, You Are Not Alone, but on tracks from their forthcoming release, which he got a sampling of while on a tour through Wilco's local recording digs dubbed The Loft.
Appearing: 3/22 at Metro (3730 N. Clark) Chicago with Geoff Farina.
"We're always kind of looking for pretty simple arrangements, simple recordings. You know, there's times where we step out of that, but generally the aesthetic of the band is kind of looking for getting as big a sound out of just a few things. And when you hear recordings that do that, that are so present . . . and every one of those couple things . . . just has so much tone and full spectrum to it . . . it really paints the picture," Sparhawk says in a bouncing bass voice. "I could hear that in the tracks he's doing with Mavis. I thought he did a really good job and kind of let her be who she is."
So Sparhawk extended an invitation to Tweedy to helm Low's 10th album, The Invisible Way (due out on 3/19 on Sub Pop), and once inside the storied space with Wilco's mad genius, the band quickly uncovered that primo position (Is that better than the dreaded sweet spot?) where inspiration and perspiration connect.
"O.K., I shouldn't have used it. Yes. We found that right away and that was a key factor, I think, for us being able to make the record we did. We could only really schedule just a very limited amount of time with the studio, so we knew when we went in that it would be . . . crunch time. Get in there and hopefully get good sound . . . and we did," Sparhawk explains in measured tones. "A lot of it is logical. They've had that studio there for a while. They've been working on it. They've been making records there and trying out mics and preamps for years and they've found what works. All those things that we hoped would be there were there right away. Sometimes it takes a couple days to find."
Pristine acoustics are central to every band, but where other, lesser acts can spice things up with superfluous filler or mask ineptitude with studio trickery and gimmicks, Low's often self-imposed limitations leave nowhere for Parker's drums, Sparhawk's guitar, and Steve Garrington's bass to hide. "The band was formed very much sort of on that premise. How little a sound we can make and yet still have some weight and still be music and meanwhile we stumbled across writing songs and singing," he says.
Since forming in 1993 (yes, the release of The Invisible Way also marks another major milestone – 20 years as a touring and recording entity) and throughout tours with the Dirty Three and Radiohead, a high-profile Christmas commercial for the GAP pushing a song from its collection of holiday standards, and Robert Plant cherry picking two tunes for his Band Of Joy album, Low keeps it "fresh and unpredictable" by varying producers. In the last 20 years, Steve Albini (Nirvana, PJ Harvey), Matt Beckley (Leona Lewis, Avril Lavigne), and Dave Fridmann (The Flaming Lips, Mercury Rev) have sat in the chair on the other side of the glass.
"We usually work with someone for a record or two and then . . . I think part of it is just recognizing that there's some habits that we fall into and even when working with someone is really fruitful and can be really great and you come up with a lot of things, you gotta keep on your toes," Sparhawk reasons. "I fall into habits and when I start thinking I can already hear what the record is going to sound like before we even go in to make it, then I know something's wrong. We just like trying different people. We're loose. We're infidels. We thrive off of that relationship, so I guess to keep it healthy and to keep it really artistic . . . I think you kind of have to stay away."
Band years are akin to dog years and hanging in there for two decades deserves more than a Snausage. What's the secret to longevity? "You choose your battles. You choose which things that you have control over . . . and let yourself not be in control over some other things," Sparhawk says. "In certain ways you can engineer naiveté, so to speak. You can be intelligent. You can be intentional and make decisions that will put you in an unintentional and unpredictable situation. Between that and we just have certain limitations as musicians and people . . . it has always kept us from being complete.
"It helps if you're a little bit ignorant. It's a lot of work and it's completely treacherous and we've been very lucky, we'll just say that. I think that's all I can kind of say to 20 years."
Sparhawk and Parker's fruitful union boasts 10 albums, countless memories, and two kids (ages 12 and 8). Raising a family takes immeasurable patience even when the heads of the household  aren't traipsing around the world hypnotizing throngs with the subtle brush of a snare and phosphorescent harmonies.
"I wouldn't look at it as a testament of how awesome we are or how strong or good. It's more like, 'Jeez, I can't believe we got through all that.' Because it's hard. It's a lot of work. I wouldn't trade it for anything from the time that we were married and long before that. We've known each other since we were nine so it's sort of just one big blur of hanging out together," Sparhawk concedes. "When it comes to writing songs and stuff, we're really not as collaborative as maybe it would appear. I'm by myself writing and when she's writing it's always a mystery to me. She just kind of shows up with songs and I go, 'When the hell did you work on this?' We don't sit around with our acoustic guitar cross-legged on the carpet and sing little lullabies to each other."
Way to squash the sepia-toned fantasy of life as a musical couple in one sentence.
"That place to me – that, 'Wow! Isn't this intense and awesome that I'm doing this in this moment with my wife?' is usually onstage. That's the thing that always floors me. This is why, if there's any magic to husband and wife for 20 years being in a band, those are the moments for me. There's just something about having your hand on the control button of the moment and the air that's in the room and knowing that you're kind of holding that together with the person that you have known forever and your best friend and you have sex with. I mean, that's weird and that's something you always kind of wish that everybody could experience. Who wouldn't want to have that creative moment, I guess, with the person they love the most?"
Every day seems to bring a new report from the frontlines of dating decrying the loss of commitment-minded men. Even the New York Times danced on courtship's grave. And Hollywood? Forget it. "The Bachelor" promotes everlasting love by pitting 26 women against each other and invites us to snicker at their foibles week after week. Why not just slip a marriage license underneath a truckload of mud and have them wrestle for it? The relationship at the center of Low could serve as a beacon even when the music's narrative turns bleak. It's amazing to think about. Not many people can say they've retained friends from their youth (reconnecting on Facebook notwithstanding), let alone maintain an enduring work-life balance with someone hailing from that far back into the past.
"A lot of it has to do with just that we did it. Sure, if we had graduated high school and I'd run into her 20 years from now, we'd be two completely different people. Maybe we'd not have very much common ground at all, but you do it. You spend time together and that's what makes you as one. It isn't because you showed up at day one a perfect piece for each other. You start living life together and you start doing stuff, whether it's raising a family or driving around the country in a van or starting a business together or whatever. You do things together and you make a life and you become one. I think a lot more people experience that and just don't realize it and realize how amazing it is."
For the full story, visit the issue through our partners at ShadeTree, or grab a copy available free throughout Chicagoland.
— Janine Schaults