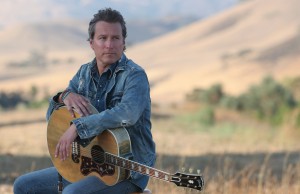 "Hey, it's Al Pacino calling." John Corbett's not fooling anyone with that salutation when he phones in from the West Coast to talk about the Feb. 5 release of his sophomore album, Leaving Nothin' Behind (Funbone). Not with that voice – the one Applebee's hired to incite a Pavlovian response for its slathered riblets for four years and now warmheartedly invites couch potatoes to skip down to the corner Walgreens.
Corbett's prank calling days ended when he introduced primetime audiences to that now familiar cadence as Cicely's on-air philosopher on "Northern Exposure." As musicians and actors go, commercials toe the line between selling out and furnishing a splashy Hollywood mansion. But, this actor-turned-musician says, "I'll sell out all day long." It's how he landed the plum role of Carrie's jilted lover Aidan in "Sex And The City." Sarah Jessica Parker spotted his 6-foot-5 frame in an ad for Ford and jumpstarted his run as the ultimate nurturing, supportive, sexy, and pro-commitment male romantic lead. (Look no further than My Big Fat Greek Wedding and even Showtime's "United States Of Tara.")
Besides, the 51-year-old needs to fund his passion project. He spent two years on the road supporting his 2006 eponymous debut (including a few stops at Joe's Bar). "There's no money to be made in this business unless you're . . . Taylor Swift, but guys like me, we're just out playing shows. We're making ends meet, but nobody's getting rich, so for taking two years off doing what I do, which is act to pay the electric bills, once that two years was up, I had to go back and get some jobs," Corbett explains.
Jobs that could become scarce as Corbett eases into middle age. "There's not too many guys in their fucking 50s who people want to see kiss a girl on the big screen or even on the small screen for that matter," he concedes. "I know that the phone's gonna slow down and unless I get on some TV show or I'm a cop chasing criminals around with the young fucking stud partner, I'm going to probably slow down as an actor. . . I don't write and I don't ever really want to direct anything. So, I have a feeling you'll be seeing less of my ol' mug as the years tick by. But, the thing is, if I keep my stamina up I can still go out and keep making more records and playing music and getting off creatively that way."
The thrill of fronting a band onstage fuels Corbett's desire to traipse across the country squished in a van with three other guys. Creature comforts are nonexistent on tour, unlike a movie set where Corbett barely lifts a finger. Someone picks him up from the airport, checks him into the hotel, fetches his coffee, provides his wardrobe (that he often keeps once shooting wraps), and so on. With the band, he acts as tour manager – no assistants. On his to-do list: book hotels for 30 nights, purchase plane tickets, rent a van, etc. "There's a lot of logistical planning that goes into it that I have to do every single part of it. Call this club back five times in a row because nobody's calling you back and . . . what am I gonna do? Show up there on the seventh and there's no drums because I couldn't talk to the guy?" he asks in mock frustration.
Rather than complain about the drudgery (or recruit an intern – something the self-proclaimed "control freak" dismisses), he focuses on the fans. "We're not playing sports arenas; were not playing [L.A.'s] The Greek. This isn't Bruce Springsteen. But, guess what? For that two and a half hours . . . we are Bruce Springsteen out there," Corbett claims. "And that's the only thing that matters. All the logistics don't matter when it's five minutes to nine and . . . we do our little huddle and we're gonna go out there. I don't care if there's 400 people out there. There might as well be 40,000, because we're playing like it."
Leaving Nothin' Behind contains all the hallmarks of a grazing country album. Co-produced and co-written by Brad Paisley hit maker Jon Randall Stewart, the album's easy-going vibe comes complete with steel pedal sighs, the personification of drug and drink ("Me And Whiskey," "Cocaine And Communion"), heartbreaking cowboys ("Steal Your Heart"), and daddy issues ("Name On A Stone").
— Janine Schaults
For the full feature, click on the issue cover or grab a copy of Illinois Entertainer, available free throughout Chicagoland.