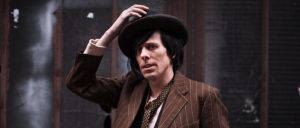 Illinois Entertainer: It looks like you have an action-packed schedule coming up in the next few months.
Ken Stringfellow: That's the idea. I like to be active, to say the least. I'm doing 27 of 28 days in February, for example. I try to keep the needle in the red at all times. Basically, I keep my calendar totally planned except for August when I like to spend time with my family, in France.
IE: You have a show on Feb. 9 at Schubas. Has Chicago been pretty receptive to The Posies and your solo performances in the past?
KS: Very early on Chicago was a real stronghold for The Posies. Our first time was at the Metro. If your first visit to a town is the perfect storm of a good audience and good show, and then you continue to deliver the goods, it becomes a trust thing. Traditionally, I've always played Schubas on my solo tours. It's one of those venues that matches perfectly with what I do as a performer.

IE: Will you be playing any songs by The Posies or The Disciplines?
KS: My show is basically improv. I never write a set list. It can go in any direction. I might do a cover song or a Posies song. I never do the same show twice or even a similar show. I might play a song one time on the guitar and the next time on the piano. The kind of people who come to my shows are right there with me. The show kind of casts a spell, although it's not magic because I work really hard on this. I like the solo format because of the freedom. There's never a train wreck at one of my shows because there's nothing to collide with.
IE: You've worked with so many bands, including The Posies, The Disciplines, R.E.M., and Big Star. How is approaching a solo effort different?
KS: The cast dictates a bit of that. The solo albums are like a screenshot of where I'm at, [at] the time. I don't treat [solo albums] any differently. It's interesting to see what comes out. I hadn't made a solo album for eight years. Some of the songs intended for Danzig In The Moonlight, like "She's Coming Down [Again!]" and "Take Care Of Yourself" wound up on The Posies' Blood/Candy album. In a different universe, they could have wound up on [Danzig] if there hadn't had been a Posies album.
IE: Danzig In The Moonlight seems like a concept album at times. Do you feel there was a unifying theme?
KS: Not really. The songs were written over a period of years. I would say there are some chapters in there. There's a chapter running through "4 AM Birds – The End Of All Light – The Last Radio." Being that the album was coming out in 2012, I had to give my take on the apocalypse. Two takes, actually. The abrupt end of the world on schedule as planned by a creator is absurd. I thought if there was going to be a big shut down of the universe, maybe what the creator had planned next would be amazing. So instead of dreading the end, there should be euphoria. But on "Odorless, Colorless, Tasteless," the creator wants to destroy the world because he's bored. Even God has those feelings. Maybe, in the back of my mind, it ties in with my own feelings of how long I'll be able to keep performing my music.
IE: You're playing with The Posies at the Todos Santos Music Festival. Are there any plans for a Posies tour or new CD?
KS: No plans. I'm pushing my new album quite hard. Sometimes [doing another Posies album] feels like going backwards. That sounds like a bad thing to say, but we're not together enough to push it forward. I live in another country; my head's in a different place. I wouldn't do it unless everyone was radically into it.
IE: Are you ever stressed out by such an active touring and recording schedule?
KS: It's hard for people to break out of their comfort zone, but for me, it's what I like doing best. Going back to my early childhood, my family moved almost every year. I was constantly the new kid. It was difficult to go through, but it turned out good. I kind of need to go out and do stuff all over the world. I'm a good navigator, as it were.
Ken Stringfellow appears at Schubas (3159 N. Southport) in Chicago on Feb. 9. Q&A by Terrence Flamm.