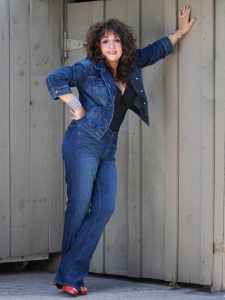 With the decidedly testosterone-filled focus of contemporary blues, it's easy to forget that the genre was popularized at the beginning of the last century by a handful of spirited women. Bessie Smith, Ma Rainey, Ethel Waters, and Ida Cox all helped usher in the era of recorded blues records and Memphis Minnie, with her finely-honed guitar skills, catchy songwriting, and innovative style, would prove to be the most prolific – recording 200-plus songs over a career that spanned 40 years. She was the first blues musician to record with an electric guitar and reined over the Chicago blues scene from the Depression era to 1945.
A child prodigy, Memphis Minnie helped pave the way for generations of blues women. Maria Muldaur honors that legacy with a sparkling tribute, First Came Memphis Minnie (Stony Plain Records). Muldaur's supple vocals wrap around the classic blues tunes like a familiar sweater. It's clear that Memphis Minnie is Muldaur's idol, but she brings along a host of guest singers to join the tribute, making the 13-track release a treasure chest of female blues power.
Opening with one of Memphis Minnie's most popular hits, "Me And My Chauffeur Blues," Muldaur delivers the required plucky sass accompanied by vibrant guitar picking from Roy Rogers. Bonnie Raitt knocks "Ain't Nothin' In Ramblin'" out the park (and the arena, and the stadium) with such soulful crooning that it brings to life Minnie's flamboyant days of touring the South and the loneliness that accompanied her fame.
Other highlights include "I'm Sailin'" a melancholy ballad that throbs with isolation as Muldaur sings, "I'm sailin'/To a place I ain't never seen/Say down South/Sweet home New Orleans/Cause my hometown friends/Treat me awful mean." Rory Block supplies expert slide guitar and sultry delivery on "When You Love Me" and Ruthie Foster shines the light on Memphis Minnie's homespun humor on "Keep Your Big Mouth Closed" when she let's loose with "Let other people's affairs alone/All you got to do is mind your own/So you got to use good judgment/And keep your big mouth closed."
First Came Memphis Minnie also includes Minnie's classic (previously recorded) covers by the late blues queen Koko Taylor and the departed pop singer Phoebe Snow. Both tunes are showstoppers. Snow sinks into "In My Girlish Days" with her multi-octave voice and creates a masterpiece of textured, mid-tempo blues. Taylor tackles "Black Rat Swing" with her typical ferocity. Blasting out the "no good man" lyrics with gleeful power, she closes out the disc on a high note. First Came Memphis Minnie is an essential addition to any blues fan or scholar's music collection.
Prolific blues harp master Sugar Blue is back with a two-disc, live album, Raw Sugar (Beeble). The first song, "Red Hot Mama" rockets out with high energy and Blue's signature harp pyrotechnics. If you missed that this is really a recording of a live party with Blue as the host, you'll realize it by the end of the song. It captures Blue's charismatic presence and rockin' live band in such a dynamic atmosphere that it realistically transports listeners to one of his concerts. It's hard to believe that this is the first live album of the harpist's 37-year recording career.
Although the Grammy-winner's musical fluency is legendary, this release shows off his supple singing. His interpretation of the Muddy Waters classic, "Hoochie Coochie Man" displays his vocal versatility as he stretches the tune into a 10-minute illustration of his harp-playing genius. Recorded during his 2011 "Raw Sugar" tour, this collection features most of Blue's original songs along with a few well-chosen covers. "Cotton Tree," his tribute to the late blues harpist James Cotton, floats with jazzy singing and melodious harp blasts.
Standouts include the traditional chain-gang song, "Another Man Done Gone" performed with such exquisite pain that it blows shivers down any listener's spine. An extended, stylized version of the Rolling Stones hit, "Miss You" provides a funky, jazzy treat. "Messin' With The Kid" presents a spirited tribute to Junior Wells and another fiery performance.
Chicago bluesman Linsey Alexander is on a mission to keep the blues alive and his latest, Been There Done That (Delmark) offers up convincing evidence that he's doing a solid job. A Mississippi-born and Memphis-bred bluesman who sharpened his musical chops in the Windy City, Alexander possesses a winning package of raspy, power-packed vocals and keen guitar playing. The first track, "Raffle Ticket" quickly captures attention with Alexander's smooth storytelling about a wayward woman and Billy Branch's scorching harp blasts. "Bad Man" conjures a nasty rhythm created specifically for smoky blues bars. Alexander's wicked laugh at the end of it just adds to the fun. The title track follows a weary love interest who has no use for a committed relationship layered over a contagious soul/blues delivery.
The Willie Kent tribute, "Looks Like It's Going To Rain," reveals Alexander's emotional core while "My Mama Gave Me The Blues," accompanied again by Branch's fierce harp, showcases his straight-ahead blues skill and vocal dexterity. Been There Done That is an impressive collection by an unsung blues master.
— Rosalind Cummings-Yeates
Category: Columns, Monthly, Sweet Home