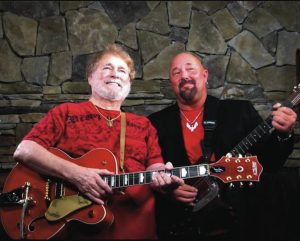 Following the untimely death of legendary Grammy-winning songwriter and studio boffin Joe South, the owner of SONGWERKS RECORDING in Addison, Robert Mackey, took time to reflect on his professional friendship with South (pictured above left, with Mackey) who performed on his band's (AVM) cover of "Hush," (made famous by Deep Purple), recorded at Songwerks. "It was a great honor getting to know Joe South, and to have his blessing for our release of 'Hush.' He actually played on our version. Joe was truly a music legend, with a career that spanned six decades of hits. We are so glad that we gave him the great news of reaching 1 million views for our new version of 'Hush' on YouTube just before his passing. The man was an innovator of 'country soul' music. On behalf of the band, our prayers are with his family and loved ones. He will be greatly missed."
Fierce Atmospheres recently began pre-production at founding member Eric J. Gosselin's Radiance Recording in Homewood, IL. The band is slated to contribute to six tribute albums through Nashville, TN-based Versailles Records. The band is currently working to finish tracks on a Master of Puppets (Metallica) tribute CD that will feature a soon-to-be revealed Chicago-area guest vocalist. Last month the band recorded two songs for an Ozzy Osbourne and Iron Maiden tribute covering "Children of the Damned," recorded by renowned English producer Neil Kernon. Tributes to Motley Crue, Led Zeppelin, and a Guitar Wizards release featuring one of Gosselin's solo instrumental pieces are all on the docket for the band in the next few months.
Simeon "Simon" Peebler will be recording his second album, Missing Anchor, at Chicago's HANDWRITTEN RECORDING. Rick Riggs, studio co-owner, will engineer the project with a cast of studio musicians employed by the Lakeview venue. Peebler's first album, Follow the River Bend, (released last November) was also recorded entirely at Handwritten Recording.
HORSE-DRAWN PRODUCTIONS, a family-owned music production facility founded by Eric Yoder in 1998, just celebrated its 14th anniversary at its west suburban digs.
Launched in a Chicago three-flat where he worked with R. Kelly, Keith Sweat, and David Dub, Yoder moved his facility to Berwyn in 2009 and expanded into music lessons, computer assembly and repair, data recovery, instrument repair, video production (including a green-screen room), graphic design, and photography. These services are in addition to the music recording, mixing, mastering, and production that Yoder offers in three fully functional production suites.
At BOBDOG STUDIO in Oak Park Lena Fjortoft started recording some of her originals live in the studio, this time with her producer/guitar teacher/bassist Jim Goelitz . . . The Hurtin Kind worked on final overdubs for its debut CD featuring power pop and roots rock songs by singer/rhythm guitarist Matt Rhodes and singer/lead guitarist Hugo Teruel, with BobDog Studios owner and engineer, Bill Kavanagh, providing bass guitar and Dan Kripke on drums . . . Scott Fortman's The New Normal (Fortman on vocals and lead guitar, Brad Wolter on acoustic guitar and vocals, Michael Palmer on acoustic guitar and vocals, Brian Mahoneyon on keys, Bill Kavanagh on bass, and Derek Inksetter on drums) added keyboard overdubs and continued mixing its debut CD . . . The Puffins tracked overdubs and began mixing on their second BobDog Studios-recorded CD.
Hey Studiophiler: To get your studio or band listed in "Studiophile," just e-mail info on who you're recording or who's recording you to ed@illinoisentertainer.com, subject Studiophile, or fax (773) 751-5051. We reserve the right to edit submissions for space. If you've recorded recently, let us know. Deadline for November 2012 issue is Oct. 15. Early submissions are encouraged.
Category: Columns, Monthly, Studiophile