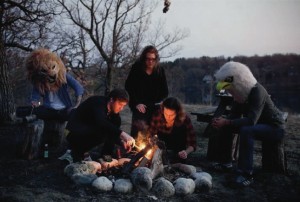 Chicago-based Empires recently finished recording their second full-length album, Garage Hymns at HEDGEHOG STUDIOS in Chicago. The band's self-produced debut album, Howl, garnered a considerable amount of attention when it was released in 2008, and now (with its new release) the band feels that they have found the sound they've been searching for all along. "We're definitely more defined than ever," vocalist Sean Van Vleet explained. "We've figured out what works for us as we've played together more, and now the music feels really honed in." It's been a rapid ascent to critical acclaim for the the band that formed in 2006.
Hand-picked from over 1,200 artists by Rolling Stone editors to be part of the magazine's first-ever "Choose the Cover" campaign, Empires advanced (through public voting) to one of the final four slots. The magazine called Empires a "big, multi-faceted, tower of power" and said that it was "inspired by the independent spirit of '90s grunge. Empires' music takes the urgency and emotion of that era and reboots it for a new generation."
"We actually started recording and tracking everything during that competition," the band said. "It was bizarre, because the Rolling Stone thing was great for us, but we were part of this huge contest where we didn't have any control over things. The voting was all done by the fans. So we got back from a show in New York, and just said 'O.K., let's make this record, because we have control over that.'" Van Vleet added, "The contest rallied our fan base, so when it came to the record, we really tried to finish it as quickly as possible – for the fans – which made us do it really honestly. Takes were very minimal. That's why there's a live feel to it that we really love."
"The album was figured out mainly in the practice space," guitarist Max Steger said. "I wanted the recordings to sound more like the band in practice, and I wanted to avoid any slick over-the-top production. We wanted to be as gritty and raw as possible."
Guitarist Tom Conrad added, "Garage Hymns songs were all demoed out six, seven, eight times beforehand. When it came time to actually start to record the album, it was a really quick process. All the homework was done, we just had to play the songs." The band appears locally on Sept. 21 at Lincoln Hall.
Local '80s hard rockers Wrath have waited 26 years to follow-up their debut Fit of Anger. The group's original lineup from the album, singer Gary Golwitzer, guitarists Mike Nyrkkanen and Scott Nyquist, plus bassist Gary Modica and drummer Rick Rios recently commenced to rehearse and discuss the upcoming reissue of their debut on Storm Spell Records, plus tracks for a new album with producer Scott Creekmore at MERCENARY DIGITAL STUDIO in Zion. The special limited edition package of the first album will feature rare live footage (audio and video), and tons of photos, liner notes, and extras. The band will also be performing with a new band incarnation at Clark's Saloon in Beach Park on Sept. 22.
At BOBDOG STUDIOS in Oak Park Jane Baldinger continued work on three new songs with her daughters Arden and Eva providing lead and backing vocals . . . Cedes De La Paz Buck continued work with overdubs and mixing on her debut CD, and added a new song "Pressure Cooker" with Tommy Marshall on lead guitar, BobDog Studios owner/engineer, Bill Kavanagh on bass guitar, and Terry Keating on drums . . . Don Candu came in to remaster songs recorded at BDS in recent years. Dav Ero started on the mixing phase for his upcoming CD titled Hamlet, The Vampyr.
Hey Studiophiler: To get your studio or band listed in "Studiophile," just e-mail info on who you're recording or who's recording you to ed@illinoisentertainer.com, subject Studiophile, or fax (773) 751-5051. We reserve the right to edit submissions for space. If you're recording in September (or recorded in August), let us know. Deadline for October 2012 issue is Sept. 15. Early submissions are encouraged.
Category: Columns, Monthly, Studiophile