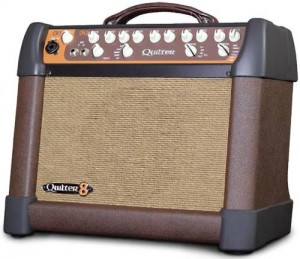 Quilter Labs
MicroPro 200 Guitar Amplifier
From the founder of QSC power amps, comes a super powerful and modern analog guitar amplifier that produces "the warm, rich tone of a vintage tube amp without the hassle of tubes," according to the company. The MicroPro 200's small size and light weight makes it easy to transport, but there is nothing small about the tone, thanks to 200 watts of class-D power supplying massive headroom to the heavy-duty 8-inch Celestion full-range speaker.
The Quilter is the brainchild of Patrick Quilter, founder of QSC Audio Products, which made its name supplying power amps for concert PA systems. Using his vast experience with power amplifier design and his musician's instincts, Quilter has claimed to "crack the code for classic tube tone to create an amp that defies expectations."
Weighing in at only 19 pounds, the MicroPro offers "big, full sound with a wide range of tone from crystal clear clean to rich, warm overdrive." It's also a "full featured professional amp that can play any sized gig."
An optional six-function foot controller offers access to several options for home or live tone and volume. Unlike Asian-made amps that claim similar features, Quilter amps are designed and assembled in Costa Mesa, California with all major parts sourced locally to the Golden State market. Its retro style "harkens back to the golden age of radio while modern touches like the back-lit control panel give it a look that is unique and attractive."
Major players in the biz like guitarist Allan Holdsworth and local California guitarist Nathan James have selected the MicroPro 200 for their current tours. Quilter Labs is asking potential buyers to view its online forum to check out reviews from local guitarists who have performed and "lived" with the amp.
Options for the amp include a vinyl covered MicroPro 200 Touring model that retails for $899 and a higher-end hand-finished, hardwood cabinet model, the MicroPro200 Studio, is priced at $1099. Both amps and accessories can be purchased directly from the Quilter online store at quilterlabs.com.
UNIT AUDIO
Unit 16×2 Passive Mixer
Though Chicagoland is full of recording studios that still offer the option of recording to analog tape, some bands still find recording to a Pro Tools box a better option. Sigh.
For those folks, Unit Audio is pleased to announce its flagship Unit 16×2 passive summing mixer that electronically reintroduces analog tone to digital recordings. Like all Unit Audio devices, it is completely hand assembled, tested, and wired point-to-point in Nashville using only the "highest quality components," according to the company. The Unit Audio 16×2 "adds back the sparkle and punch of analog recording that is so often missing in a purely 'in the box' mix."
Pricing for the MSRP starts at $149.00. Unit Audio's PSMs (Personal Summing Mixers) put passive summing technology within the reach of average home or project studio owners. Easy setup makes these mixers the perfect companion to a Digital Audio Workstation.
News & Notes
Chicagoland's fall guitar shows are approaching quickly! While Tobias Music is holding its Taylor Roadshow & Concert in October, R&B Productions and Bakes Guitars are back in Elgin at the Holiday Inn (Rt. 31 & I-90) on Sept. 30. Dozens of Midwestern guitar dealers will be buying, selling, and trading new and used guitars, amplifiers, parts/accessories, videos, and rock 'n' roll memorabilia.
— David Gedge