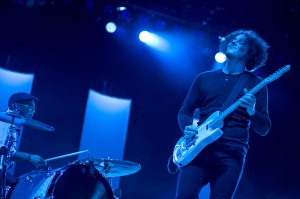 Lollapalooza 2012 was destined to go down in history as the "Lollapocalypse" –when thousands were evacuated from Grant Park on Saturday afternoon before a torrential downpour with shocking zigzags of lightning hit — until Jack White's face-melting set closed out the fest.
Sure, the predicted showers turned the grounds into a squishy, stinky mess and wiped some bands completely off the lineup (Oh, Alabama Shakes, please announce a makeup gig in a proper, sweaty venue!), but White erased the weekend's hardships with his blistering guitar and voice like sex incarnate.
Despite coming out as a solo artist with Blunderbuss, White conceded the spotlight to his talented array of backing musicians.  First, the boys club took the stage by storm for a knockout whirlwind that included the whomping "Sixteen Saltines."  White squashed any questions about whether or not he'd sprinkle in his past hits with a dark version of the White Stripes' "Dead Leaves And The Dirty Ground."  His male drummer hopped off his stool with each furious clash as if channeling Kevin Bacon's character in Footloose during the pivotal tractor chicken race scene while White's guitar howled, screeched, and screamed like a toddler in the middle of an embarrassing tantrum.
Always one to adhere to a color scheme, White dressed in black like an undertaker who hasn't seen the sun all season and let his roadies and bandmates accentuate their ghoulish décor with accents of powder blue.  Midway through the show, the boys filed out and the all-girl band commandeered the stage.  Whether he was sharing Eskimo kisses with Ruby Amanfu on a scalding "Love Interruption" or stepping up to the plate with drummer Carla Azar, White puts out a sexual and feral energy he can only muster when surrounded by instrumentalists of the female persuasion.  And there's nothing hotter than a girl pedal steel guitar player, even if Maggie Bjorklund looked as if she'd been resurrected from Tom Petty's "Mary Jane's Last Dance" video.
White and his Sister Wives turned "Hotel Yorba" into a square dance on speed and pushed "Ball And Biscuit" to the limits of a country and blues smorgasbord.  Years from now when they play highlights from past incarnations of Lollapalooza, "Seven Nation Army" will sit atop any recap.  White even cracked a smile at the mile of people vocalizing the song's wicked guitar riff, which carried on into the streets after curfew.
Florence Welch played Glinda the Good Witch during her rambunctious set.  All flowing garments and diaphanous wings, Welch owed a great debt to Stevie Nicks as she pranced back and forth encouraging the crowd to tangle tongues and lips and hoist your neighbor on your shoulders.  The sunshine and smiles act threatened to overshadow the music, but Welch's cathedral-sized pipes cut through the festival niceties.  "Dog Days Are Over" and "No Light, No Light" gave the Machine a chance to bust out its pummeling theatrics, which made the languid "Never Let Me Go" a complete snoozefest.
Iceland's Of Monsters And Men proved too precious for a festival appearance and a daytime timeslot didn't help matters.  Based on the strength of the band's debut release, My Head Is An Animal, catching the six-piece seemed like a no-brainer.  While breakout single, "Little Talks," had the tree-lined alcove jumping, the slower, softer fare bordered on tedious.  As the top tier of the current folkie implosion, Of Monsters And Men know how to make shouting, fist-pumping "heys!" into a joyously collective event.  Sadly, it wasn't enough to keep the mind from calculating a plan on how to make a beeline to the North end of the park to see Florence + the Machine.
The Head And The Heart also claim a spot in that big, cathartic chorus-making, foot-stomping echelon of folkies and the band's constantly fluctuating tempos spoke to a festival audience's short attention span.  Three songs felt like six, and even if you've seen the Seattle-based band on one of its many trips to Chicago this year, the flame still burns.  The Lolla set was less church revival and more a comedown from the mass hysteria that usually swells during the group's Pentecostal rave-ups.  Dawes takes cereal box wisdom and somehow translates it into profound musings on the human condition.  "When My Time Comes" is still tailor-made for brash sing-alongs outdoors.
Only Metric's Emily Haines can rock leather hot pants in a summer of insurmountable temps, but the fiery blonde injected a metaphorical cold splash of water into a depleting Friday afternoon.  "Help I'm Alive" reinvigorated the fading flowers.  Passion Pit's Michael Angelakos sweated his way through a button-down collared shirt and tie while performing like his life depended on it.  The singer canceled a number of earlier dates to attend to his mental state, (he was diagnosed as bi-polar several years ago) but funneled any desperation into a wildly peppy set.
George's only sire, Dhani Harrison, lead his electro-rock outfit thenewno2 away from the sleepy rhythms boxing him in on the band's two albums and let loose on an ear-splitting slot that incorporated Beatles-ready hooks, electronic minefields Radiohead would bless and bashful charisma.
With 270,000 fans stomping in and out of Grant Park over three days, the watchful eye can't help but take mental notes on the state of ticketholders.  Here are a few stray observations:
Biggest improvement: Boxed water.  There was something refreshing about not sidestepping bottles strewn about the grass.
Inexplicable accessory: Indian headdresses.  Why? Just, why?
Best costume: Many ladies came to lollapalooza dressed as Rosie the Riveter.  This writer had to refrain from shouting, "We Can Do It!" at every red bandanna tied up in front.
Best sunglasses: Forget those cheapo sunners with the neon sides.  How about a pair of shades with a plastic moustache attached?
Best headgear: In the wave of floppy plush hats to choose from, nothing warranted a smile more than the one made to look like you had a pineapple growing out of your noggin.
Click HERE for photos from Day 1 and 2.
Click HERE for photos from Day 3.
— Janine Schaults
Category: Featured, Live Reviews, Weekly