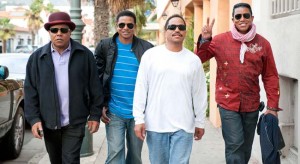 IE: It's been 28 years since The Jacksons hit the road. Why did this summer feel right for the "Unity" Tour?
Jackie Jackson: We decided we should go out because the fans kept calling us and saying we should tour. This is something Michael wanted us to do as well, and my sister Janet said "Guys, please go out and do it. Please do it for me and do it for yourselves." So we just thought we've gotta go on and do it.
IE: Is there going to be a "Unity" album?
JJ: I don't think it's going to be called "Unity." That's the name of the tour, but not the album. Right now we don't even have a name for the record. We're recording and putting songs together.
IE: How does your music translate to today?
JJ: I think we fit in very well with the modern musical landscape today, but also when people come to see us, they want to the hear stuff that they're used to hearing. You can still add certain drum beats, but they still want to hear that Jackson flavor at the same time. You can't go far away from that.
IE: With so many albums and singles over the years, do any stand out as favorites?
JJ: I like "Never Can Say Goodbye" and "I'll Be There." There are so many songs that we've made that it's hard to pick out a favorite one, but those are the two that stand out. The problem we're having right now is trying to pick the songs for the show because there are so many. We don't want to leave anything out, but there's not enough time to do everything. There's going to be some surprises, and trust me, it's going to be a great show. I wish Michael was here with us, but his spirit will be in the house with us on all these performances. We're taking turns on lead and there's a [tribute] section for Michael.
IE: Any news to report from your involvement with your brother's estate?
JJ: The estate is doing a very good job. They've released a new Pepsi "King Of Pop" campaign on Michael that's all over the news right now. We're part of things like that, and I help out in any way I can with his charity, interacting with fans, and just trying to keep his name in a great light. His kids are doing wonderful. They show up at a lot of the [Michael Jackson: The Immortal World Tour] Cirque du Soleil shows and do interviews as well.
IE: How do you account for your family's continued strength?
JJ: Like any family in America, there are ups and downs, but we've been able to hold it together. We've been through a lot since the death of my brother. Our fans are number one. They've stood by us; they've been so supportive and so kind. We owe it to them, we really do.
IE: How often do you guys get back to Gary, and do you ever visit your old home?
JJ: We sneak in and out quite a few times here and there. People never know it, but we come back sometimes to say hello, to see friends, and we go by and see the old home. It's so funny, because at the time I was living there I thought the home was so big. I thought it was a mansion, but now my garage is bigger than the whole house. There was a lot of love going through the house. That's where we all started. I remember rehearsing for shows and people would peek through the windows and crowd around outside. It was like a free concert with all of my brothers and I performing inside.
IE: What do you remember most about crossing the state line to Chicago?
JJ: Whenever we come to Chicago, we eat some good pizza . . . We used to come there all the time to play in clubs and we used to love going to the Chicago Cubs and the White Sox ballparks. When we were very little, we used to pass by [Comiskey Park] and just say "Look at the baseball stadium," since it's such a monumental place.
IE: Do you have a favorite team between the two?
JJ: Well I still like the Chicago Cubs. They will always be my team because I grew up watching them. I'd come home from school and watch Ernie Banks and listen to Jack Brickhouse. I used to love coming home to watch them on television, but I'm still waiting on them to win the World Series one day.
The Jacksons' "Unity" Tour plays Star Plaza Theatre in Merrillville, Indiana on Friday, June 22nd. Q&A by Andy Argyrakis.