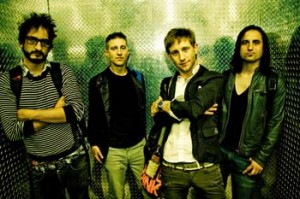 In what was expected to be a slam-dunk conviction, Cook County Judge Vincent Gaughan acquitted Justin Pivec of aggravated battery in 2010's brutal beating of Madina Lake bassist Matthew Leone. Leone famously intervened as Pivec allegedly assaulted his wife on a West Town street – domestic proceedings are still pending – though Pivec gained the upper hand and Leone ended up in the hospital within inches of his life.
Pivec requested a bench trial – a rare tactic in a criminal case, often chosen to avoid engaging a jury's emotions – to try his case before a judge, and the gambit worked. Gaughan – who presided over the acquittal of R. Kelly and the conviction of the second Brown's Chicken massacre murderer – provided no commentary on his decision in the court record. Madina Lake posted a brief message about their shock online; whether Leone pursues civil damages from Pivec is unknown.
There's Another Riot Goin' On
Since we won't have a pennant race to worry about, the weekend of September 14th through 16th is as good a time as any to drag Riot Fest out of the clubs and into Humboldt Park. What began several years ago as an ingenious ploy to get some old punk bands to reunite, has since expanded to different cities and now brings Elvis Costello home to us. Oi! And don't forget Rise Against, Iggy & The Stooges, Descendents, The Offspring, and Dropkick Murphys will also headline, oi! Plus The Jesus & Mary Chain, Gogol Bordello, Coheed & Cambria, Alkaline Trio, a Slapstick reunion, Gwar, Built To Spill, Reverend Horton Heat, The Promise Ring – and just think of the afterparties. Oi!
Saber Rattling
Despite appeals for calm, Cubs fans have grown restive in the early days of Theo Epstein's rock-star regime. Swept at home by the rival White Sox during Kerry Wood's retirement weekend (which included our least-attended intracity game since interleague play dawned), Epstein hopes to revive the North Side's hopes by bringing a bit of Beantown magic to the Metro on June 14th: writer and omniscient ESPN analyst Peter Gammons! The inaugural Hot Stove/Cool Music benefit concert will feature music from TV commentators Len Kasper & Bob Brenly, Smashing Pumpkins, The Figgs, members of Buffalo Tom, and more, as well as appearances by Mike O'Malley, Jeff Garlin, and Joel Murray. The MLB schedulemakers then bring Epstein's ex-wife, the Boston Red Sox, to town – as of press time, she hadn't landed so softly, either.
— Steve Forstneger