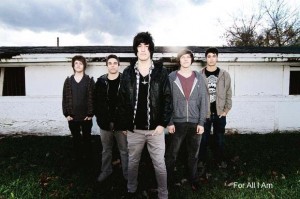 In an interview, presidential hopeful Mitt Romney tells President Obama to "start packing." Romney, after all, has been on the road since last fall, and wants Mr. Obama to be prepared for a grueling tour. Also on the road this week? For All I Am, Trust, Bear In Heaven with Doldrums, and Tanlines.
I don't know how they do it in Buffalo Grove, but For All I Am have jumped the gun. While Rhino reissues Pantera's Vulgar Display Of Power next month, FAIA's debut EP for Equal Vision sinks its nails into the vaunted Texan band's followup, 1994's Far Beyond Driven. Of course, it's difficult to pin Lone Wolf's influences to any single band, as tracks like "Injustice" tie themselves more closely to garden-variety metalcore. Co-vocalists Aria Yavarinejad and Chase Wagster deliver a constantly multiplying array of screams, barks, tenors, and screeches, often approximating System Of A Down set to puree. The Pantera reference frequently shows in dissonant, downtuned chords and Aaron Martinez's dexterous drumming. Though this is just a sampler of a young band, they try too hard on "Eyedentical," a kitchen-sink metalcore track that even features a quick dubstep drop and a shoehorned guitar arpeggio. Their heroes, at their best, kept things disarmingly simple. (Tuesday@Penny Road Pub in South Barrington Hills with Texas In July.)
Ten years ago, few would have believed that indie-rock fans would be so fond of dancing, so now's as good a time as any to see if the mainstream will revisist goth pop as well. Trust, duo Robert Alfons and Maya Postepki, use TRST (Arts & Crafts) to play up the genre's more accessible beats and dour melodies, while also retaining the edge that suggests you might not yet be ready to see what's behind portcullis number three. Before it can slip down the retro garbage shoot, "Gloryhole" successfully incorporates elements of Moombahton atop thick waves of synth-bass and ghostly accents while "Heaven" sports a pornographic thrust and glimmering Euro-club lines. TRST's vocal melodies, however, sound suppressed not in a theatrical way, but almost to hide them. (Tuesday@Empty Bottle with Valis and Dear Recipient.)
You know when you're at a dinner party, and conversation keeps running artificially while everyone's clearly looking at their watches but doesn't want to be the one who breaks things up? And then your host finally caters to good sense with, "Well, we have an early day tomorrow," and you clumsily utter "I was just about to say that" or "Yeah, us too"? It might happen to you while navigating Bear In Heaven's Dead Oceans debut, I Love You, It's Cool. The album's first five tracks are as clattering and claustrophobic as the interior of a washer/dryer, with a speaker-rattling, buzzsaw bassline that's as jarring as it is overused. Then, in the spacious "Cool Light," the band tease "Too late/now I'm gone." But that's what I was going to . . . Bear In Heaven aren't really gone, and hit a soft patch in "World Of Freakout" and "Warm Water." Better late than never.
Equally chaotic, but more coherent, opener Doldrums' auteur Eric Asher can't decide on a constant for the Empire Sound EP, and is all the better for it. Opener "I'm Homesick Sittin' Up Here In My Satellite" rams Atlas Sound into a high-school football game, which gets interrupted by a murder and a violin virtuoso. From there's the bhangra-influenced sample frenzy of "Parrot Talk" and sledding on the remote ice planet of "Endless Winter." Asher's gift for melody hasn't fully developed, but a voice that echoes Perry Farrell is enough to go on for now. (Wednesday&Thursday@Schubas with Blouse.)
The inexperience of young bands grows in prominence as more of them headline mid-size clubs on their first- or second-ever tours. Some attempt to self-manage after having self-produced their own music; others misguidedly invent un-Googleable bandnames that supposedly create marketing mystique, mindless of the fact that Google will always catch up. Still more will drop a catchy single with little or no other quality music in the kitty, and inadvertently accelerate the one-hit-wonder parade to 4G speeds. Tanlines dropped their own catchy nugget, "Real Life," almost two years ago and then did the smart thing: waiting 'til the rest of their work caught up. When their True Panther debut, Mixed Emotions, finally arrived this spring, it showed a slight lack of confidence by including the old single, but immediately the decision helps contextualize the track with synthy, Afro-pop-inflected dance music that doesn't rely on either of those dressings. Presently, Tanlines' recordings are stuck in the '80s revival — in the future, however, it doesn't appear that their songwriting will be. (Thursday@Empty Bottle with Rewards and The Field Auxiliary.)
— Steve Forstneger
Category: Stage Buzz, Weekly