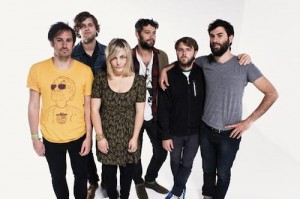 Listening to The Head And The Heart with anything other than that thumping, muscular organ whacking against your insides will only bring about feelings of dissatisfaction.
The logical brain can pick out the pattern shaping nearly every one of the Seattle sextet's tunes: starts out on a slow burn of cooing harmonies and collects steam for a rousing crescendo, before exploding into an epic finish courtesy of drummer Tyler Williams (who could easily stand in for The Muppets' Animal).
Murky lyrics that would never make it onto the Facebook profile of any serious quote fiend also make the noggin ache. Take "Rivers And Roads" for example. Put lines like "My family lives in a different state/and if you don't know what to make of this/then we will not relate" to paper, and you've got the makings of a hastily written ninth-grade English paper.
Yet, put the voices of Josiah Johnson, Jonathan Russell, and Charity Rose Thielen together and love is blind.
The Head And The Heart turned the Vic Theatre into a garden party complete with shrubbery, paper lanterns, and twinkle lights for a sold-out, celebratory two-night stand on an unseasonably warm March evening.
Despite making its Chicago debut a little more than a year ago at Schubas, and spending the rest of 2011 popping into the city like a relative with frequent flier miles to burn, the band didn't wear out its welcome over a 90-minute set; peppering the 16-song itinerary with a few new tunes helped. The compositions retain the hootenanny-meets-church revival spirit permeating the band's sole album (although they adhere closely to the aforementioned pattern).
Russell, rocking the low-cut tanks favored by Freddie Mercury, played the part of the artiste and made minimal contact with the sweaty, fist-pumping throngs. Unless leading the jangling "Lost In My Mind" or taking the stage solo for a "sad bastard song," he deferred to Johnson to serve as the night's host. Johnson's the mischievous kind who ensures all attendees are having a blast, but might go AWOL before the party's over. Thielen looked and shouted at invisible specters with her woefully underused staccato yelps.
Openers Cory Chisel & The Wandering Sons invited ex-Smashing Pumpkins drummer Jimmy Chamberlin to the band's shuffling barn dance. The surprise appearance couldn't detract from Chisel's mournfully exquisite push-and-pull with Adreil Harris' impassioned drawl.
— Janine Schaults
Category: Live Reviews, Weekly