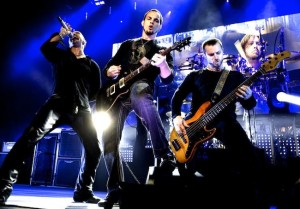 The idea of an artist staging an entire tour around a successful album is a trend that doesn't seem to be slowing, and in the case of Creed's upcoming outing, fans actually get a double-decker front-to-back rendering. Though it's hard to believe, this year marks the 15th anniversary of My Own Prison, which sold over six million copies and brought the foursome from Florida obscurity to superstardom. From there, the band — comprising Scott Stapp (vocals), Mark Tremonti (guitar), Brian Marshall (bass), and Scott Phillips (drums) — avoided the sophomore slump with 1999's Human Clay, which received a diamond certification for selling more than 11-million copies and led to sold-out stadiums all across the globe.
Appearing: April 13th and 14th at Chicago Theatre (175 N. State) in Chicago.
Both albums will be on display, alongside hits and other album cuts, when the group brings its grunge-infused rock to the Chicago Theatre for two nights (focusing on My Own Prison the first, and Human Clay the next). Of course, the intervening years since the band's breakthrough have alternated between highlights and less favorable shades of the limelight, but ever since the 2009 reunion, it appears the train is officially back on track.
"I'm telling you right now it's a real blessing, and that's the simplest way for me to describe it after going in different directions for so many years and then getting back together and playing music again," reflects Stapp. "It's awesome and we're excited about this year. We feel like we're just beginning to get back into the groove."
Chicago will have the first crack at the double-album caper, which continues through late May and is reported to be followed with brand new music. But perhaps the key to Creed making its mark on the next album lies in simply going back to how it all started, which in the case of My Own Prison, includes full-throttled favorites like the title track, "One," "What's This Life For," and "Torn."
"I think one of our reasons for coming together as a band was we wanted our music to have something to say and feel it again in the way we grew up feeling it," he recalls. "We were just in a different space [compared to] other artists on the radio at the time, and instead of being so abstract and dark, we wanted to paint pictures, be clear, and make melodies that would unite and connect. That's something we still try to do today."
As it turns out, the group's early tunes connected so quickly that the quartet stayed on tour for two solid years promoting My Own Prison, though all the while, continuously wrote new material for the follow-up. Having never let up on either the road or studio allowed Creed to strike while the iron was incomprehensibly hot, and helped push Human Clay to nearly double the sales of its predecessor and churn out a slew of singles like "Higher," "What If," "Are You Ready?," "My Sacrifice," and the inescapable "With Arms Wide Open."
"We really got to hear those [Human Clay] songs in a different way during soundchecks with big sound systems, and we just stayed in tune with the creative process," explains Stapp. "By the time the Prison tour was over, we went right into the studio and recorded these songs we'd been playing for 18 months [after] really seeing the fans' reaction."
However, as Creed's fame swelled, so did the ranks of detractors, who often assailed the players as purveyors of a blankly derivative and accessible sound. And as listeners began looking closer at the lyrics, additional questions arose about the group's spiritual subject matter.
"[Spirituality's] played a tremendous role in my life and in who I am as a human being," the frontman admits. "Essentially I was born in a church nursery, and really was given no other way to think growing up. I think on the first record I was asking a lot of questions, kind of spreading my wings. I lived a life that was very sheltered, and things other people would experience in high school, I didn't see until I was 20 or 21-years-old. So I kind of went through high school late, so to speak, and definitely on a public scale, but it really began that way because that's just part of my DNA. I began to find some resolution and confidence in my faith and a renewed trust in my faith, but with more of a global understanding . . . On [Human Clay], I was embracing that spirituality and that faith and giving it a place of gratitude and thanks for the success that happened from My Own Prison."
As a result, it was only a matter of time before Creed was bombarded with the polarizing question, "Are you a Christian band?" And though the band certainly enjoyed a built-in audience in that marketplace, the answer was always resounding "no," especially from Tremonti, Marhsall, and Phillips, who weren't writing the lyrics.
"During those days, I did what I did and I don't think there was much thought or analyzing by the other guys," Stapp remembers. "It really happened so fast, we didn't have time to really have demos and live with it. There's a lot of times you're not focused on the details of what the lyrics are actually saying; you're just vibing, at least for the musicians. When there was a labeling of the band, it kind of didn't sit right with anybody. [It] was really our first threat of division and would be a major factor in the band not being together years later, initially because everyone's dreams weren't matching the reality. I guess. We're very sensitive guys, and we had all this success and began to get labeled things that we weren't. Part of the reasons we didn't want that label was we all knew we weren't living that life. That was part of our youth and what we were at that time, but we hadn't really experienced life and everything that's out there."
Though the band as a trio (minus Marshall) still had enough steam to crank out 2001's Weathered (which topped Billboard's Top 200 chart for eight consecutive weeks, tying The Beatles' Anthology in the record books), the group officially splintered shortly thereafter. Stapp kicked off a solo career and the rhythm section formed Alter Bridge, though fate would steer the band back together in 2009 for the aptly titled Full Circle, with all of the previous tension presumably ironed out.
In fact, Stapp seems especially rejuvenated after surviving a series of personal demons (to be chronicled in a tell-all autobiography this fall), and he's a much different man than the one who was sued by four fans over what was reported to be a far-from-stellar show at the Allstate Arena in 2002, just before the break-up. Even so, the singer doesn't seem to dwell on the past, only offering a fleeting reference to that incident while professing nothing but love for area fans and the city itself.
"When I think of Chicago, there's not a single bitter taste in my mouth," he insists. "That city is a city that I love and has been amazing to this band and is a part of what made this band on so many levels. We've had some of our most amazing nights as artists, musicians, and performers in Chicago and we've been real and human in Chicago."
Since Creed fans are likely to forgive, chances are Stapp will be welcomed back once again — maybe even with arms wide open.
— Andy Argyrakis
Creed's Basic Tenets
U2
Rattle & Hum
Some people heard and saw an ego-tripping band of Spinal Tap proportions: others heard and saw a blueprint.
Metallica Metallica
It cannot be understated what a game-changer this album was for commercial hard rock — that it arrived the same year as Nevermind evoked a serendipity not heard since the late '60s.
Pearl Jam Ten
Eddie Vedder's brooding baritone launched a thousand bands, but Pearl Jam's classic-rock base and embrace of workmanly anthems surface in Creed's work.
Soundgarden Superunknown
Again, a frontman's self-serious gaze is an obvious touchpoint, but those chunky, drop-D chords gave Mark Tremonti a new lease on guitar.
Collective Soul
Hints, Allegations & Things Left Unsaid
What opened the grunge doors for the Christian-alternative crowd was undoubtedly "Shine," which may have been a clever lift of Temple Of The Dog's "Hunger Strike," but it steered clear of the competition's pervasive self-loathing.
Live
Throwing Copper
Live were among the first alt-rock bands to successfully parlay positive messages into what sounded — overwhelmingly — like angst.
Acts Of Their Apostles

Nickelback Silver Side Up
Nickelback's Creed-love finally connected on their third album, and just in time for them to take the mantle from their hobbling heroes.
Daughtry Daughtry
"American Idol"'s credibility got a boost from rock fans for this find; it also replenished Creed critics' inexhaustible supply of arrows.
Shinedown The Sound Of Madness
Though it's an imperfect analogy, Shinedown recall the end of the hair-metal era, when suddenly bands were toting a few too many power ballads.
This version of the story has been updated since it was originally posted.