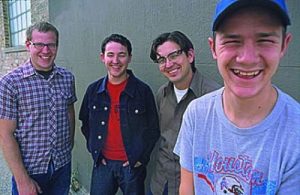 Before it became an epithet and anyone outside of punk-rock circles knew what it was, The Promise Ring were highlighted in nascent Teen Vogue magazine as the access point to emo.
That was 14-years ago, and four before the Milwaukee-based quartet would sense the Jimmy Eat World tide and swiftly change course for what would become their swansong in 2002. Since then, there's been only one reunion show (in 2006, also at Metro) and the handful of appearances planned for this year might only serve as a perfunctory warmup for a package of rarities expected come summer. In fact, frontman Davey Von Bohlen openly advertised a gig by his current vehicle, Maritime, in Chicago in March.
So the tentative nature of the reunion may have tempered fans' expectations and allowed the band to get through a rather bumpy opening to Saturday's curtain-raising at Metro. For the first several songs, either Von Bohlen or Jason Gnewikow's guitar would go missing from the mix, and no one anticipated having to provide backing vocals — least of all Von Bohlen, who'd frequently pogo away from his mic stand and return too late to nail the vocal melody or rhythm.
After a crew member made some adjustments, however, things took off, incidentally abetted by an injection of tracks from their most consistent album, 1997's Nothing Feels Good. While Gnewikow sequestered himself to the right flank, the audience buffeted Von Bohlen's worn voice. Presented as a jumble, the band's catalog demonstrated an unsung range that has become apparent over time. Songs like "A Picture Postcard" and "E. Texas Ave." presented both twee and crushing templates with abstract poetry, and those lyrics begin to stretch into more conventional yet boyish styles on Nothing, before Very Emergency explodes into power-pop. Along the way, rare cuts and b-sides — including the rarely played "E. Texas Ave" and "Make Me A Mixtape" — juiced the fans.
— Steve Forstneger
Category: Live Reviews, Weekly