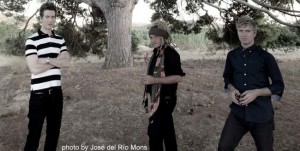 One of the feel-good stories of the '90s alternative-rock boom and its subsequent bust, Nada Surf recently caught wind of a new danger on the horizon.
Appearing: April 2nd at Metro with An Horse.

Back in '96, MTV pumped the cable wires full of the band's novelty hit, "Popular," a grungey dig at the hollowness of clean-cut cool kids, and the sort of anthem that would also consign contemporaries like Seven Mary Three and The Toadies to the post-Nirvana cut-out bin. Despite issuing an ignored sophomore album two years later, the Brooklyn-based band recalibrated and were reborn on 2002's Let Go (Heavenly/Barsuk), a taut collection of melancholic power-pop that blindsided critics the way Radiohead's The Bends had sandblasted the indelible image of "Creep."
Suddenly, Nada Surf were in league with Spoon and The Flaming Lips as Lollapalooza-era survivors, the boy got the girl, and . . . scene! If the screenplay is being test-marketed, its chronology ends around 2004.
Except Nada Surf are still a band, and have just released their third album since the Let Go pick-me-up, The Stars Are Indifferent To Astronomy (Barsuk).
"When we did these record-release shows for [2010's covers record] if i had a hi-fi," says frontman Matthew Caws, "we played all of Let Go one night, then Weight Is A Gift, and Lucky. In relearning a lot of those songs, I had to listen to the records a lot for a couple weeks — I think I had the same worry that a lot of songwriters have, that I'm writing the same two or three things over and over. So, with this record, there was a conscious effort to wrestle with the lens I'd been pointing at myself and getting it to point somewhere else. I don't want to hit 70 or 80 and look back to see that all I'd really done was stare in the mirror. There's a much bigger world. And it's not only songwriting. You're one of, what, 7 billion [people] now? There's so much going on. I think that has helped. The outside world figures into this record more."
And while that imagined row with the mirror did manifest itself in one of the new songs ("Every birthday candle that ever got blown out/is one more year of someone trying to figure it all out"), the trio — still rounded out by co-founders Daniel Lorca and Ira Elliot — successfully present enough diversity to keep their music interesting.
"It's only a matter of degrees of change," Caws agrees. "It's rare for us to have some sort of concept and, deep down, these were the last 10 songs that we wrote that we were really psyched about. There's not a lot of over-arching conceptual thinking going on. The fact that we kind of had a plan on this one is a change."
Like the subtexts of sleep and dreams?
"Yeah! That's there," he says. "The environment is there — my worry about getting out of touch with nature, and also the warming of the planet figures heavily. Maybe I don't talk about it overtly, but it's there. One of the reasons the title resonated with me was because it makes me think about our presumptions as a species. And yeah: there's sleep, there's dreams. When I was young, that key phrase in there — 'I didn't know if I was better off asleep or up' — I still find it really shocking every morning that you can be anywhere in the imagined world, having dreams or nightmares of any stripe, and the alarm rings and you're probably in the same place you were yesterday, and no matter where you are you have the same exact issues you had the day before — possibly the same issues you've had for 20, 30, or 40 years. It's shockingly repetitive. And sometimes, it's a difficult moment. I have a lot of friends who think waking is the hardest part of the day. 'Oh, yeah: I'm in this life. Right. Oh, yeah: I'm this person and I have that issue I still haven't dealt with.'"
After more than a decade, Nada Surf have already swept aside the issue of their former pariah status. But Caws dismisses the idea that the storybook portion of the band's career has robbed them of motivation.
"I don't miss [the drama]," he muses. "I think it keeps us slightly on an underdog level a little bit. I do like that. I miss people having misjudged us completely. I was used to having someone think we're some novelty band with a funny video, and they're surprised there's some decent songs coming down the pike. I've been reading reviews, and I'm finding more mixed reactions to this record, but I think that's because we're getting written up more, period. So I've been enjoying that. It's been like, 'They never change: it's boring.' Or, 'They never change! It's incredible!' And then there's, 'It's totally different! Great!' 'It's totally different: awful!' It's always nice to get a mix. It keeps it lively. But I don't miss the drama."
— Steve Forstneger
For the full feature, check the IE digital edition or grab a copy of the March issue free throughout Chicagoland.