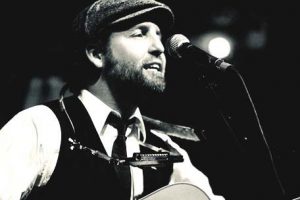 For the past 13 years, Miles Nielsen made a name for himself throughout the Midwest and beyond thanks to several different band incarnations, but none seemed to hit the spot as much as his latest collaboration The Rusted Hearts. With equal parts roots rock and power pop and plenty of pub-infused power, the Rockford-based band just dropped Miles Nielsen Presents The Rusted Hearts (Rotown). The collection serves as a culmination of the leader's vast influence pool, plucked from previous projects like Harmony Riley, HMS, Cory Chisel & The Wandering Sons, and even a hint from his famous father (more on that later).
Appearing: March 23rd at FitzGerald's in Berwyn with Chuck Prophet.
"I spent my time working for other people and letting other people sort of dictate the way things are gonna go, and now it's my turn to sort of be a little selfish in that respect," suggests Nielsen. "I write the songs almost primarily, but I feel like on the current record everybody really had a lot to do with the shaping of the way the tunes turned out. I consider it to be a full band project."
Aside from the leader, The Rusted Hearts include Daniel James McMahon (guitar/vocals), Micky Rosenquist (drums /percussion), Adam Plamann (horns/percussion/keys/vocals), and Andrew Scarpaci (bass/vocals). Many of the above were involved with Cory Chisel & The Wandering Sons, while others also split their time developing a side-project with Cheap Trick drummer Bun E. Carlos. (That's another lineage hint by the way).
"When the Miles record came out in 2009, we were playing out a bunch, but the lineup solidified in 2010 and has remained the five of us for the past two years," says Nielsen. "I was tired of people asking me when I played, 'Is this a full band or more like Miles and friends?' It's not just my random friends showing up, but we needed to give it a name, so that was the conception of The Rusted Hearts."
The full-band feel is certainly evident across the dozen-track disc, which finds Nielsen turning in a blend of gritty and smoky vocals over a finely chiseled rhythm section that leaves plenty of room for unexpected combinations. "I would describe it as coming from someone who's a fan of things like Elvis Costello and The Cars, mixed with something along the lines of The Kinks and Wilco. I really hate to say 'it sounds like these 17 bands,' but probably everything I've ever listened to seeps in."
Of course, growing up in the Nielsen household gave Miles a vast musical palette since literally as long as he can remember, and we're not just talking about albums on the stereo, but actual rock stars stopping by for dinner. Considering he's the offspring of legendary Cheap Trick guitarist/songwriter Rick Nielsen meant an interesting childhood to say the least, but one the troubadour truly considered normal because he didn't have any other point of reference.
"I've met a lot of people and it didn't seem weird or odd to me to have Aerosmith and Todd Rundgren come over or Roy Thomas Baker living with us for a month because I didn't know any different," he reasons. "Maybe that all indirectly played into me wanting to be a musician – seeing all these really quirky, cool, and weird artist folks. I remember Steven Tyler was really friendly every time he came over and hung out, and the Guns N' Roses guys were young and wanted to party."
While he certainly has the utmost respect for Cheap Trick and has often bunked up on the bus (both as a spectator and supporting guitar player), Miles Nielsen Presents The Rusted Hearts is far from a carbon copy. However, the idea of music running inside the family's bones is a theory Nielsen subscribes to and his melodic aptitude is nothing short of extraordinary.
"I really don't know if their sound influenced me as much as the feeling that comes with what they do: those really four-on-the-floor rock tunes," he observes. "Robin [Zander]'s voice has been an influence on me as one of the best singers I've ever heard, and my dad's choice in melody has influenced me. I find myself being melodic and I truly think it's in my bones. I never struggle to find a chord progression and I always come up with something."
The apple also doesn't far fall from the tree when it comes to crafting lyrics that are just as contagious as they are sophisticated. "Dear Kentucky (You're Killing Me)" is all about the wear and tear of the road, "Baby Blue" talks about society's proclivity for white lies, while "Overrated" is a cheeky account of canceling his Rolling Stone subscription after being outraged Adam Lambert made the cover.
On a more serious note, "Cold War" traces his grandmother's childhood in Germany, and "Disease" is an especially touching tune about an older friend battling Alzheimer's disease. "Lyrically this is a more truthful record than the last one," verifies Nielsen. "This one is coming from more of an autobiographical point of view than the past, and all the stuff hits a bit closer to home for me."
As for his pop's opinion, at press time he's yet to hear the material. It turns out the elder Nielsen hasn't requested – and his son hasn't offered – a copy, but he insists their relationship is rock solid.
"We get together, but we don't talk music so much," he explains. "He still works a ton and I don't really know if I've given him a copy to be honest with you, which probably seems weird. I just did a bunch of dates with [Cheap Trick] for the Dream Police shows, and was more focused on that than sharing the new record with them. It's not that he's not proud, but he's focused on his own thing. Yet he's still my dad and sometimes says I'm working too hard and that I'm gonna burn myself out. But I feel like I'm gonna burn out when I don't have work. That's when I start getting into trouble and having too much fun!"
Nielsen won't have to worry about an excessive amount of free time considering he and The Rusted Hearts are spending spring on a national tour supporting the CD. But it's clear his heart is geared to frequent writing and recording sessions, especially now that the group has its very own studio called Midwest Sound – which also makes its home in Rockford.
"I don't want to be on road all the time, but for a good amount of time, like three or four weeks at a time," he clarifies. "I don't want to go out for a two-year stint to the point where no one recognizes you when you get home and you're a different person. Relationships fall apart because of those things and I like taking time off to record music. I like to take a couple weeks off to write some new songs and be inspired by not being on the road, take it all in and take some time to write about it. I just want to be able to play music for a living and be able to say on any given day, 'I'm going to write songs.' If I'm sitting around not doing anything, my mind gets the best of me. I drive myself to stay motivated and work makes for a better day."
It doesn't hurt that it's his name on the door now.
— Andy Argyrakis