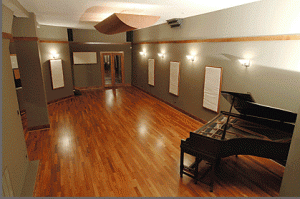 Uptown is one of Chicago's oldest communities, one that brims with a rich heritage from the Gilded Age to Prohibition. Fast-forward to its current incarnation as an urban melting pot that hosts music of all genres, Catherine and Matt Denny began Uptown Recording in 2001 in the shadow of Broadway & Lawrence, a short walk to the area designated by Mayor Emanuel as a new entertainment district giving added muscle to those who want to rebuild the music scene around the venues that have made Uptown U-P-T-O-W-N, like the Aragon Ballroom, Riviera Theatre, and The Green Mill.
Matt Denny began it all out of his basement studio. Like any young entrepreneur, he knew he needed to expand to fill the demand of musicians looking for a good recording. "Uptown Recording was started out of a need to provide local and national artists a place to record comfortably and without worrying about going broke." Denny had been recording bands in the basement of his apartment in Uptown, bands like The Gelheads, The Great Apes, The Wrightwallys, and alt-counrty artist Thomas Pace (with 10 albums tracked at the studio). More and more local artists were trying to get in, and it made him realize he had to go ligit. This led to finding a C-zoned building in Uptown. He gutted everything but the four exterior walls of their current Clifton Street location. The build-out was completed in late 2001 with his home above the studio still part of the plan, but a much larger and professional "environment," says chief engineer Rob Ruccia.
Uptown's original focus had been to always nurture young acts in the Chicago area and provide affordable recording choices. Being musicians who learned the ropes in the local clubs, its aim was to provide locally focused options as an inspiration and a good business practice. Engineer Dan Stock stresses he not only records bands, he recruits them. "We've stayed involved with the local music community by attending shows, and contacting bands that we'd like to record. If I hear about a fantastic band or see a killer show featuring a group I've never heard of, I have no problem approaching them and saying, 'You guys are a great band, I have a great studio, let's work together.' After working with them, I become their biggest fan. I want them to go on to bigger and better things just as much as they do, after all, my name is on the record as well. If I haven't seen the band live yet, then that becomes a must-do. If they don't have a bill booked before our planned tracking session, then I'll show up at their rehearsal space. Listening to and watching a band live is the core to capturing their attitude and swagger. Whether it's the Metro, Sylvie's, or a 10-by-10 rehearsal spot, I'll be there."
As technology has changed, Ruccia emphasizes the staff at the studio has changed with it, keeping up with software that's been powering most recording studios during the past decade.
"We stay state-of-the-art with our hardware and software, while remaining true to the origin of recording. We have a hybrid of equipment that takes the best of the analog world and brings it into the 21st century. I'm the in-house active test candidate for Avid as well as a Pro Tools/ Macintosh guru that allows Uptown to stay functional and keep ahead of the curve when it comes to updates and upgrades." Both Ruccia and Stock stress that bands with their own pre-recorded tracks are welcome at Uptown, which enables them to refine their recordings and pick-up on new techniques to make them better. "'Laptop artists,' as we call them, have been a common sight at Uptown. In fact, we openly welcome them. We were born out of a basement, so we aren't saying 'don't be a recording enthusiast,' just let us help. Having an expert engineer track your album in a professional environment, can be the difference between a great album and a dull basement demo. We recognize you can track most of your own music at home. As technology gets better, the ability for anyone to call them selves a studio gets higher. However, you cannot substitute high-end microphones, proper acoustic treatment, [or] high-quality reference monitors with a set of ears listening that are so discerning they can hear your stomach gurgle on the vocal track, and a Pro Tools HD system that puts laptop rigs to shame.
"It is generally a good idea to use a professional environment for the major stuff — drums, vocals, and mixing/mastering. Having a musician/engineer at Uptown be a co-producer to the artist can be very important. It's the third ear that everyone wishes they had. We hear things that you may hear in your head, except we know how to get them onto tape. The first five years our motto was, 'Are you hearing things? We can help'. From making edits that allow songs that may be too lengthy for commercial environments to adding a horn or piano part, Uptown Recording has enough musical production experience to bring the project to new heights."
Having a 10-year track record in the recording business means not only being a good businessman, but also means being a good citizen in the community, and the Dennys are entrenched in their surroundings, working closely with their locally elected officials to make their neighborhood better.
"Matt Denny is very active in the Uptown community and is working with Alderman James Cappleman and the Uptown Chamber Of Commerce to develop the entertainment district along the Broadway corridor that includes the Riviera Theater, Uptown Recording, the Aragon, The Green Mill, and a soon-to-be-rebuilt Wilson Red Line [CTA] station," Cappleman agrees. "Since its founding, Uptown Recording has been instrumental in bringing development into the 46th Ward. Their commitment to the neighborhood and their quality clients are helping to shape the future of the entertainment district. As we continue to develop the entertainment district in Uptown, Uptown Recording Studio and its owner Matt Denny are fundamental to the district's success."
One of the keys to business success is keeping your staff in place to offer continuity to the customers. Denny has held onto his original engineers (Ruccia, Stock), while giving local and national artists a comfortable and affordable place to record, including Cage The Elephant, Three Days Grace, and From Zero, plus breakout local bands like Madina Lake, Funkadesi, and Bruiser.
Naturally, the Dennys are proud of their decade-long accomplishments. Catherine Denny says they plan be around for the long-term. "We've been in the hood for 18 years, and are dedicated to making Uptown and Uptown Recording our home for a long time to come!"
— David Gedge