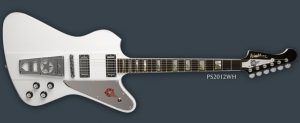 Paul Stanley of Kiss has evidently put down his paintbrush long enough to partner with Washburn Guitars and release the cool-looking (and sounding?) PS21012 Starfire signature guitar.
The PS2012 features a carved, raised center solid mahogany body that recalls the glammy heyday of Kiss with chrome hardware, and has two Seymour-Duncan SM-3 Mini Humbuckers, controlled by two volume knobs, two tone knobs, and a three-way toggle switch. A custom Tone-Pros Tune-O-Matic bridge and Starchild tailpiece machined from solid aluminum completes the body. This U.S.-manufactured guitar is available in both black and white.
Like the body, the neck is also mahogany and has a bound ebony fingerboard with 22 jumbo frets and split block inlays (the top half being pearl, and the bottom being abalone). Hats off to Washburn and Stanley for making more American-made guitars. Homefront craftsmanship certainly costs more: the retail price is $5,332.
Blue Microphones
Spark Digital iPad Mic
Like last year's NAMM show, this year's exhibitors showed off lots of iPad applications, and Blue Microphones debuted Spark Digital, the first "studio-grade" iPad mic that offers both iPad and USB connectivity. The combination of Spark Digital's direct connection to iPad, along with numerous available recording apps such as Garage-Band, provides the first mobile studio setup for Apple's tablet platform, according to the company as well as USB connectivity, delivering studio-enhanced audio to any computer, laptop or tablet with USB.
Like Blue's acclaimed analog Spark microphone, the digital version delivers the same detailed and uncolored tone, making it suited for sound sources from vocals to drums to podcasts. Spark Digital also features studio capabilities including zero-latency headphone monitoring, fully adjustable gain control, and mute. $199.99 is the MSRP Details are available at bluemic.com.
Peavey & Antares
AT-200 Self-Tuning Guitar
You can tune a piano, but you can't tuna . . . wait. We've heard plenty of bands having trouble keeping in tune on stage, so Peavey and Antares Audios' announcement of the AT-200TM auto-tune guitar is a blessing for those who lack a good roadie.
With the simple push of a button on the Peavey AT-200, guitar players can now create music in "perfect tune and pitch," according to Peavey.
In their NAMM press announcement, Peavey said theAT-200 utilizes Antares Auto-Tune for Guitar, a DSP technology that works behind the scenes to bring the clarity of perfect pitch to a quality instrument in an unobtrusive manner. No bulky, unattractive hardware weighs down the playing experience: the Peavey AT-200 looks, plays, and sounds just like a conventional guitar."
Like many Peavey guitars, to us it ain't the most attractive axe in the shop, with an '80s hair-metal vibe to its design. (At least it doesn't look like Cher.) But time will allow the company to bring some btter looking ladies to the ball.
Just as Auto-Tune changed how vocals are recorded (for good and bad), the AT-200 Auto-Tune Guitar should help bands sound better on stage – used judiciously. On paper, players won't have to stop to retune during live performances. With the AT-200 guitar, perfect pitch is the new standard. The price is not known at press time. For details visit peavey.com.
News & Notes
Two of our favorite local independent guitar stores are showing their wares this month: R&B Guitars in Carepentersville is holding their annual Guitar Show in Alsip on Sunday, February 26th at the Alsip Double Tree, and Tobias Music in Downers Grove has expanded their showroom and put it all on display at an open house and sale with Taylor and Walden Guitarsin March. More details at www.tobiasmusic.com and in the next issue.