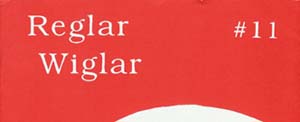 Chris Auman and his buddy Tom Ziegler conceived of Reglar Wiglar during a night of drinking in Lincoln Park's punk-rock haunt Delilah's in 1993. The first two black-and-white, text-only issues poked fun at alternative music, and featured fake record reviews and fake interviews with fake bands.
At its peak, the $2 zine featured 100 pages of real, well-written reviews, comics, and articles with a circulation of 2,000 and distribution through Desert Moon Periodicals and Tower Records.
But Auman, who plays in Soft Targets and runs RoosterCow Records (and has written for IE), ceased publishing Reglar Wiglar in 2005.
"It was just too expensive," he says. "Printing was the biggest expense, of course, but postage and shipping was a close second. It was also getting to the point where reviews of bad punk-rock CDs were becoming the bulk of the content, so the fun was being sucked out of it, too. That was my fault, due to my unwritten policy of reviewing every single piece of music I received. It also didn't help that both of my distributors went under."
Contributor Mike Dixon set up a blog for the zine in 2005, and four years later Auman restarted it as an online-only endeavor (reglarwiglar.com) that includes archives as well as fresh content such as interviews with Roctober's Jake Austen, Radar Eyes, Portland comics artist Jesse Reklaw, and plenty of reviews. (Bands may visit the site to learn how to submit their work.)
The growing site gets 2,000 to 3,000 hits per week, and Auman loves the ease of digital publishing. "Kinko's is out of the equation, as are trips to the post office. I don't need to pedal around town with bags full of magazines during Chicago's brutal winters. I can correct typos and edit content to infinity if I need to. I can fact check things more easily, thus making myself look smarter. It's easier to get readers to find you through blogger tags and links from other sites; even Google searches bring people to the site."
Later this year, Auman hopes to return to print – with a new zine "based on all the crappy jobs I've had in the past 25-plus years, which will be accompanied by comics and sidebar anecdotes."
TERRESTRIAL TO PODCAST – METALMOUTH RADIO: Before launching his metal podcast, Neil Wonnell had a string of jobs as a producer, board op, and/or DJ at a handful of suburban radio stations, including WJOL, WICB, WLLI, and WCSF. The last straw came when he was working overnights, and gave the only respondent to a call-in contest its tiny jackpot. "[She] was ecstatic that she had won the entire pot of $9.50 and planned to use the money to buy doughnuts for her church," he says of the elderly winner. "Monday morning, the station manager was less ecstatic and needless to say that ended my career at that station."
Wonnell launched "Metalmouth Radio" in July 2010, as a heavy-metal talk show. "Not getting too many calls at first, I added music, but the sound quality on that original site was horrid," he says. So he switched to music and started pre-recording on the city's far South Side before uploading it to reverbnation.com/neilwonnell. (The show is distributed through Wonnell's N.E.W. Audio Concepts LLC, and syndicated on Fox FM and Monclair State University's WMSC-FM.)
Wonnell plays old-school, new-school, thrash, punk, and heavy metal and plenty of unsigned bands. A recent selection ranged from Fueled By Fire's "Eye Of The Demon" to Killer Of Sheep's "Lose Control" to Black Flag's "Black Coffee." After an energetic diatribe on the hypocrisy (and aroma) of hippies, he put on "Hippie Killer" by Suicidal Tendencies.
He says he'd like to find a co-host and do a full four-hour show on terrestrial or satellite radio, and add a talk edition of "Metalmouth."
In the meantime, he says the recent signing of South Siders Diamond Plate to Earache Records put Chicago on the metal map. "Bands to watch for are Savagery and Smash Potater."
Bands can submit music by contacting him via neilwonnell [at] yahoo.com.
ODDS N SODS: WGN-AM (720)'s new lineup is virtually devoid of women now that Karen Conti and Johnnie Putman are gone. At least they kept "Sports Night" co-host Andrea Darlas and "Sunday Night Special" co-host Marianne Murciano. The latter is one of the few live shows remaining on the weekends, which are now devoted to – yawn – "best-of" reruns . . . We loved the debut of Brooke Hunter and Jill Egan's new weekly podcast, "The Brooke & Jill Show" (the two first paired up at "The Zone" in 2002). At press time they hadn't launched a website; listen at chicagoradioandmedia.com or check out their Facebook page . . . They're following the footsteps of local radio veteran Wendy Snyder, who continues doing her weekly podcast – which she started two-and-a-half years ago – with husband Jimmy "Mac" McInerney. Listen at snyderemarksradio.net . . . Which reminds us: on February 1st, the Chicago Foundation For Women co-sponsors a free screening of Miss Representation, a documentary about gender and discrimination in media. More at cfw.org.