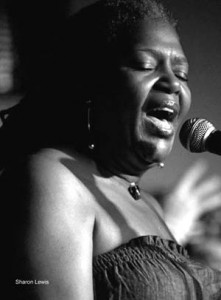 Texas-born Chicago-based vocalist Sharon Lewis has been a fixture on the blues scene since the '90s, playing with everybody from Dave Specter to Harmonica Hinds. But her Delmark debut, The Real Deal (Delmark), brings together all that experience in one multi-layered package. Backed by her hard-driving band Texas Fire, Lewis manages to craft a well-rounded, contemporary blues album without relying too heavily on tired imagery or uninspired covers.
The 13-track set boasts eight originals penned by Lewis that help lend a fresh feel, but there's a lot of other interesting things offered on The Real Deal. The first is Lewis' varied delivery. Unlike the one-note belting that often passes for blues singing, Lewis leavens her vocals from gentle crooning, to midtempo intonations, and big-voice singing so that listeners truly gain a musical adventure.
An uptempo ode to the current economic challenges, "What's Really Going On" sets the tone for a lively journey. The title track brims with authority and a simmering groove, declaring her position as an authentic blues musician, despite outdated expectations. By the middle, everything heats up with the sublime party tune, "Blues Train." Made even hotter with master harpist Billy Branch blowing away and name checking Rosa's, Kingston Mines, and Buddy Guy's as stops, the song could become the new signature Chicago anthem. (All it needs is a few South Side references, namely Artis's and Lee's Unleaded.)
"Mojo Kings" supplies rollicking rhythms and more energetic blasts from Branch, and "Silver Fox" supplies a jazzy ballad underscored by Specter's elegant guitar work and memorable lyrics like, "Just because I'm old school/please don't think I'm a fool." Probably the most surprising cut is a cover of Bill Withers' classic "Ain't No Sunshine," which she spices with a reggae rhythm complete with dub ending. Closing with the autobiographical ballad "Angel," which throbs with emotion and triumph, The Real Deal qualifies as one of the best blues albums of the year.
Guitar fans should top their holiday wish list with Toronzo Cannon's tight collection of guitar-driven blues, Leaving Mood (Delmark). Another Windy City mainstay, Cannon has racked up acclaim as a high-energy performer and that quality bursts out of the 14-track album. A tasty blend of blues underscored with rock and funk pours out, thanks to his hard-hitting band, Cannonball Express. Filled with originals and skilled musicianship, this CD firmly demonstrates that modern blues doesn't have to be predictable.
Schooled on a hardy foundation of legends including Elmore James, Buddy Guy, and Hound Dog Taylor, and tempered with Bob Marley and Jimi Hendrix, Cannon plays the blues like it should be played – with an urgency that speaks to its contemporary relevance. The opener, "She Loved Me," is fast-paced and frantic, and an intriguing tale of a murdering lover. "Chico's Song" displays a heartfelt yet still rockin' tribute to late guitarist Chico Banks, with guest harpist Matthew Skoller wringing out the underlying melancholy. On "Come On," the contagious rhythm swirled with stinging guitar riffs makes for an unforgettable paean to longing and heartsickness.
Perhaps the most singular song on the album, "Open Letter (To Whom It May Concern)" tackles the omnipresent issue of back-biting in the Chicago blues community. Rarely addressed in music or in discussions, Cannon approaches it with distorted vocals meant to mimic a soapbox speech and cutting lyrics: "Crabs in a barrel/killing the blues/Pull me down/and we're all going to lose/Undercut your number/just to get ahead/Play the same three clubs until the day you're dead." Adorned with nasty guitar riffs and Skoller's harp blasts, "Open Letter" is a hallmark in effective blues songwriting.
With an album full of originals, the selection of a cover tune needs to be carefully chosen, and Cannon reveals his innovation again by taking on Nina Simone with a sensuous blues take on "Do I Move You?" Leaving Mood demonstrates clearly that the blues is alive and progressing with the times.
Although progression and change is important, the blues can never move away from its roots and nobody represents those better than Alberta Hunter. Born in Memphis in 1895, she played a vanguard role in the '20s and went on to play with Louis Armstrong and perform for the troops in both world wars. She continued to uphold the blues mantle until her death in 1984 at 89. Downhearted Blues: Live At The Cookery (Rockbeat) was one of Hunter's final recordings, preserving her six-week run at the Greenwich Village cabaret. The 18-track album is a trove, from the Hunter-penned title track made popular by Bessie Smith, to the saucy "Two-Fisted Double-Jointed Rough And Ready Man." Her commanding vocals still send chills, this is an album that's required listening for any blues fan.
— Rosalind Cummings-Yeates
Category: Columns, Monthly, Sweet Home