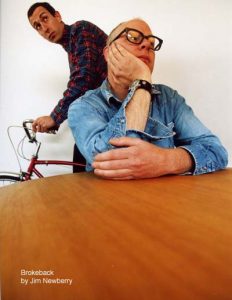 STROBE RECORDING in Chicago is hosting Strobe Sessions #43 a live, in-studio performance on December 15th with appearances by Brokeback and Electric Hawk, an instrumental power trio from Chicago, featuring guitarist Michael Burns, bassist Graham Mclachlan, and drummer Noah Leger.
Brokeback originally began as a one-person affair by Douglas McCombs to create music in a more open and less structured environment than his other bands, Tortoise, Pullman, and Eleventh Dream Day. Brokeback's most recent incarnation includes Chris Hansen (Head Of Skulls), Pete Croke (Tight Phantomz), and Jim Elkington (The Zincs, The Horse's Ha). Over the course of five records, Brokeback has been almost entirely McCombs' vision. He handpicked for each record a number of guest musicians and collaborators such as Rob Mazurek, Tim Folijahn, Alan Licht, John McEntire, and Yo La Tengo's James McNew. While Field Recordings was full of simple melodies accented by a unique combination of twang and low tones, Morse Code was more of collaborative process including various members of Calexico, Two Dollar Guitar, Stereolab, Chicago Underground Duo, and Tortoise.
RSVP to strobesessions@gmail.com to guarantee your seat. Strobe Recording is located at 2631 W. Division in Chicago. Doors open at 7:30; a $10 donation is welcomed. Both sets will be recorded live in front of a studio audience. Please arrive on time.
It's been busy this fall at Alpha Sound Services recording studio in Geneva. Former Trouble frontman Eric Wagner's new band, Blackfinger, just finished their debut album with Doug Agee engineering . . . Aurora's Bury Your Demons and Bloomington-Normal's Last Rites have started their new album projects . . . Hip-hop engineer Victor White has been busy with Pierre Henderson, Matt Matics, Justin Burns, and David Seidl . . . Also in progress was movie soundtrack work for Will Zellner's project.
At MILLION YEN in Chicago, owner Andy Gerber continued work on a new CD with Scott Lucas & The Married Men . . . Engineer/producer Jeff Dean recorded a commercial for T-shirt giant Threadless with Bob Nanna (Braid, etc) . . . Dean also tracked an EP with Cincinnati-based Knife The Symphony . . . Engineer/producers Pete Carparelli and Matt Loncar worked on a full length for The Orions, and also recorded Marshfield's new EP, Coping With The Present, as well as an EP with The Money Back Guarantees . . . Sciphonic Productions recorded a CD for Minneapolitans Brüder.
At EVOLUTION RECORDING in Elgin, Grammy Award-winning producer/engineer Ricco Lumpkins tracked with Sami Grisafe and Shannon Nicole (Universal Republic). Session sidemen included Brother John Kattke for some keyboard tracks and Todd Donnelly (Mr. Meyers) on steel drum . . . Joe Moss and his band sat for sessions along with Kenny Anderson, Hank Ford, and Bill McFarland of the Chicago Horns.
At BobDog Studios in Oak Park, Jane Pebbles Baldinger and daughters Anna, Eva, and Arden finished their CD, Pony . . . Ivette Franco added tracks to her upcoming jazz EP . . . The Coda Kings mixed tracks they had recorded at Chicago Recording Company for their upcoming CD enlisting Bobdog's master sound engineer, Bill Kavanagh.
Hey Studiophiler: To get your studio or band listed in "Studiophile," just e-mail info on who you're recording or who's recording you to ed [at] illinoisentertainer.com, subject Studiophile, or fax (773) 751-5051. We reserve the right to edit submissions for space. Deadline for January 2012 issue is December 15th. We need your news, you need us to print it.
Category: Columns, Monthly, Studiophile