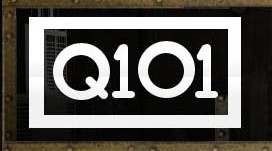 Q101 may have flipped its format in July, but the music rocks on at www.q101.com. The busy website features streaming music, entertainment, and information aimed at alternative-rock fans.
The site is the brainchild of Matt Dubiel and Mike Noonan – the duo behind the short-lived "Save The Loop" movement. They own the syndication company Broadcast Barter Radio Networks, which purchased the Q101 brand and turned it into a virtual "station" designed to go where the listeners go via mobile apps and social media.
"We look forward to giving fans a genuine say in who and what they hear – one that traditional broadcasters only pay lip service to," says Noonan, a former WLUP jock. He and Dubiel, general manager at Elmhurst's WJJG-AM (1530), plan to add talent to the audio stream (live.q101.com) next year – which will also see the return of the local music showcase "Local 101."
"No matter who we choose [as host], we'll be listening closely to the feedback from fans on the hosts and content and production value of the show," says Noonan. They also plan to bring back the Jamboree and Twisted concerts as well as new events.
"Radio isn't dead or outmoded by any stretch, but obviously has been immersed in a metamorphosis since the mid-'90s, and that has been detrimental in terms of homogenizing it, giving listeners less variety and less top-flight and local talent, while also underserving advertisers. Radio is till one of the best ways to reach and motivate people," says Noonan.
"Having said that, we feel the unique brand affinity for Q101 and being free now to expand it from being a 'radio' brand to being a 'lifestyle entertainment' vehicle without regard to what corporate minders and consultants say is huge," he continues. "We can and will communicate directly with fans and listen to their needs and desires and be in a position to meet those needs, without the heavy burden of debt or the quarterly, even daily demands of stockholders to hold us back. We have a tremendous opportunity and don't and won't take it lightly. We're perfectly positioned and suited to take Q101 and make it the tip of the digital spear."
BUT WAIT, THERE'S MORE!: Whereas Q101.com plays major-label artists such as Lenny Kravitz, Kings Of Leon, Filter, Weezer, and the Beastie Boys on Q101.com, you're more likely to get Stereolab, Azita, David Lynch, Afrika Bambaataa, and The Del-Byzanteens on North Center-based Chicago Independent Radio Project (CHIRP).
The online station is a truly alternative, non-profit, all-volunteer, listener-supported community project that is still hoping to get its hands on a low-power FM license. In the meantime, you still get to hear real, live music lovers playing their own records. It's available online or via app at chirpradio.org.
The city's other alt-stations all have a terrestrial presence – in other words, they broadcast over the airwaves – and all it takes to tune them in is a simple box with a couple of knobs.
CBS-owned WXRT-FM (93.1) is still plugging along, playing new alternative music along with mainstays such as BoDeans, The Pretenders, and Albert Collins. Grouse all you want, but "Chicago's Finest Rock" makes us the envy of rock fans in other cities.
College stations have been playing new music all along, and now that they're online you no longer have to be within a two-mile radius to tune them in.
Loyola University's WLUW-FM (88.7) continues to rock the North Side with new music, despite the massive walkouts when the university regained control of the station a couple of years ago. Plus they play "Democracy Now!" at 9 a.m. each day. Listen at wluw.org.
With 5,000 watts, Northwestern's venerable WNUR-FM (89.3) is still the area's biggest college station, blanketing the North Side and northern suburbs. "The Rock Show" airs weekdays from 2 to 9 p.m.; "This Is Hell" airs Saturdays from 9 a.m. to 1 p.m. More at www.wnur.org.
The most underground is Northeastern Illinois University's WZRD-FM (88.3), which has no format but leans toward sublimely obscure rock. As its mission states, "WZRD's brand of freeform is commercial free, devoid of ego, eclectic, and radically non-mainstream." More at www.wzrdchicago.org.
University Of Chicago's "Pride Of The South Side" WHPK-FM (88.5) states that it "is dedicated to playing music not commonly heard on the mainstream." The live music show "Pure Hype" airs Fridays at 9 p.m. Rock shows air most weekdays from midnight to noon. More at www.whpk.org.
ODD 'N' SOD: We enjoyed the Reader's 40th-anniversary issue, which featured former editors and writers waxing poetic about the independent weekly's storied past. But we missed hearing from and about Patrick Arden, managing editor during most of our tenure at the "Backwards R" (full disclosure: my byline appeared regularly in the Reader from 1995 to 2008). Arden was a rarity: a great editor who also advocated for the writer and refined our stories without playing "guess what I'm thinking" or SCREAMING AT US IN ALL CAPS. He was (is) perhaps the most intelligent person I've ever met – talking to him was like using Google, only with relevance, context, and history. Plus he loved his job. How well I remember coming to the empty Reader offices early one morning after a cover story about the White Sox was put to bed. I nearly tripped over Arden – who was asleep under a desk, his Sox hat askew. Best. Editor. Ever. And now Senior Reporter at Metro New York who earlier this year won the 2011 political reporting prize from the New York Press Club. Bravo!
— Cara Jepsen