Q&A with Lykke Li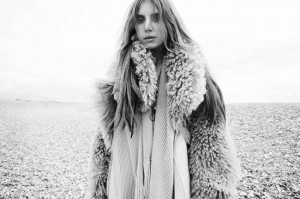 IE: People are excited about your cover of "Unchained Melody."
Lykke Li: They [Triple J Radio] called me at like 12 in the morning, and they were like, "Pick a cover!" And oh, God! And that's like one of my favorite songs and couldn't dare touch it – I wouldn't have done it if I were in a clear mind. I just went for it – and it was in Australia, so I felt very remote and didn't think anyone would hear it. I didn't even know they were filming. God, I would have put on some mascara!
IE: Have you had any starstruck moments?
LL: The one moment where I was really 'Oh my God, is this happening?' was I got to sit down with [filmmaker] David Lynch and have coffee and talk. That was probably the wildest one.
IE: It seems like it would take time to have conversation with him. Like you would need a couple days.
LL: I know! But it was a short meeting, yet we touched all subjects in life. You kind of go right into it. I loved it. He's so light. His spirit is so warm.
IE: Are you getting advice from others as your career escalates?
LL: Well, I have a strong feeling about everything. I'm really inspired and happy about the situation. I am. Just being in my band, pumping out tunes – there's no pressure on me. I don't believe in seeking out advice, though I've made a lot of mistakes. I can feel them in my stomach, but then I can tell myself not to do something again.
IE: Do you have a plan?
LL: I've always had a plan, but the plan was just to express myself. I'm very determined. I've been daydreaming a lot and calling on the higher power for something to happen. Not in the way people think, but to give me an opportunity to meet people to create with. Fortunately, I found my producer and my band, and that's the flow I've got to follow. On that path I've done some miscalculations, and I'm a spontaneous person and sometimes I look back and don't love [what I've done]. But there's a saying: you can't live life backwards.
IE: What mistakes?
LL: When you do something in the moment, you're experimenting on a spontaneous idea. I know my identity well, and what I like. So, for example, I kind of regret that crotch thing I was wearing [in the "Get Some" video]. I go really far into any situation, so I was living that character. Like, "She wouldn't wear any pants while singing. Pants are the last thing on her mind." In retrospect, I would have worn a suit, actually.
Lykke Li's Wounded Rhymes (Atlantic) is out now. She plays November 14th at Vic Theatre (3145 N. Sheffield) in Chicago with First Aid Kit. Q&A by Steve Forstneger.