To The 13 Björoughs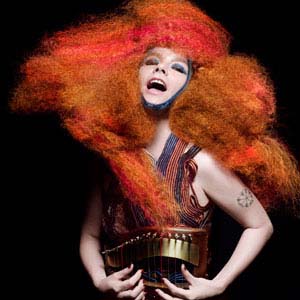 Most Americans know Björk as that girl who showed up to the Oscars in a swan dress. Rebranding was in order and, several years down the line, the former Sugarcube's ninth outing, Biophilia, has been billed as the world's first "app" album. Its 13 tracks have a smartphone/tablet alternate universe, one that the Icelish sprite hopes can be used to teach children about cosmos-level science with a dose of spirituality. As the Guardian wrote, apps rarely challenge our imaginations; Biophilia can be mesmerizing. Its creators hoped not only to redefine the album in digital contexts, but bring fans back to when you put a stylus to vinyl and sat down with the artwork. As such, you can follow each song's lyrics and staff-paper breakdown, as well as dawdle in activities specific to each song. At its best, it connects you with the album, and points a way forward. At worst, it recalls vintage EnhancedCD vapidity or download codes that unlock "bonus" "content." The music? Oh. It's among her more ethereal, freeform excursions, with winding vocal melodies that sound like a 3-year-old adlibbing. Plus a massive dubstep drop.
The Days Of Whine And Roses
IE attempted to get a member of Guns N' Roses on the phone to advance the band's first Chicago-area show since 2006, at Allstate Arena on the 15th. Originally we were rebuffed because the band were in South America – where there are no phones – and then told we could get Tommy Stinson, but only if we stuck to his solo career. It'll be a miracle if they make it to Rosemont at all. The band's Rock In Rio performance got savaged by the press, and its promoter laid into the band publicly for "a lack of commitment and respect for the public" after taking the stage two-hours late. GNR issued two different responses, the first pledging that they'd never "intentionally disrespect anyone, especially fans," then, on Facebook, "You want 8 o'clock shows go find friends or hit a cinema somewhere. Or if you want to be informed go catch the 10 o'clock news. This is Rock'n'roll! Treat yourself, don't cheat yourself thinking you're going to go to school or work or whatever you normally do the next day." Rock 'n' roll: needing a shrink to lure you past your fears and onto a stage, and singing a lyric like Dracula on your over-produced, 18-years late album. Rock on.
The Mailman Always Rings Twice
Forty years have passed since John Prine's classic, self-titled debut came out and "Great Society Conflict Veteran's Blues" turned into "Sam Stone." In its honor, Oh Boy Records has released The Singing Mailman Delivers, a two-disc set of the songs Prine was workshopping at the Fifth Peg on Armitage while holding a day job in Maywood as a postal carrier. The first set was tracked in the WFMT studios after an interview (at the behest of Studs Terkel), while the next disc relays an amateur taping of a typical set at the Peg in November '70. Almost as startling as the audience's familiarity with the unreleased songs is Prine's stage banter: the poet laureate of Chicago folk has an accent you'd more commonly associate with the line jutting out of Gene & Jude's.
DeWyze Denied
He may have cut his teeth selling paint, but these days Lee DeWyze has become a specialist in whirlwinds. Not 18 months ago did he receive the keys to Arlington Heights, throw out the first pitch at a Cubs game, and perform for 30,000 people at Arlington Park Race Track, all before lopping off Crystal Bowersox's melon and hoisting it during his coronation as "American Idol" champion. He proposed to model Joanna Walsh in July 2011 after a nine-month courtship, and began touting his next project online. In October, however, RCA dumped him (and Bowersox) as its relationship with "AI" and 19 Entertainment ended, while the new affiliate, Universal, hasn't shown any intention to sign him. Hopefully, something breaks Lee's way soon.
— Steve Forstneger