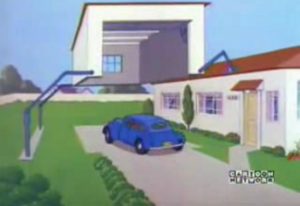 The news media constantly reminds us that, according to polls, Americans aren't excited about the future. But are kids? Do they still get '50s-perspective cartoons sprinkled into their daily regimen? The first week of November promises We Were Promised Jetpacks, Reckless Kelly, Cash Box Kings, The Devil Wears Prada, and Touch People.
"I thought we were supposed to have jetpacks by now" was a Gen X rallying cry, no doubt influenced by Tex Avery's "Car Of Tomorrow," "The Rocketeer," and "The Jetsons." We Were Promised Jetpacks, a Scottish indie-rock quartet, join that refrain without offering a vision or revision. They have, however, built upon the scattered promise of their debut, These Four Walls. In The Pit Of The Stomach (Fatcat) still shows their friendship with Frightened Rabbit is strong, a tidbit that seems less relevant as the set gains strength in its second half. "Sore Thumb" and "Boy In The Backseat" pay off patience with the first side handsomely, mashing all their flailing tendencies — epic, self-aware, cathartic, destructive — into an extraordinarily powerful display. (Wednesday@Metro with Royal Bangs and Bear Hands.)
Soothsaying or doomsdaying aren't Reckless Kelly's forte, either. The Austin-based country band do have the advantage of knowing their history, and it's not some narrow, judgmental survey-edition. Their ninth album, Good Luck & True Love, doesn't show any preference for the era or fashionability of ideas, and pulls as liberally from '50s twang and '70s outlaw as the big-hat '90s and the modern game's flair for pop-rock hooks. Veterans of dyed-in-the-wool country labels like Sugar Hill and then rootsy, indie-rock stalwarts Yep Roc, they're modern enough to run their own imprint now so they can put aside industry politics and focus on the road — where they belong. (Friday@Joe's with Sarah Pierce.)
Joe Nosek's plan for Cash Box Kings is to explore where country and blues met on dirt roads, so you Seymours of the world can listen safely without fear of Blues Hammer. The first notes of Holler & Stomp's namesake opener lay the local outfit's intentions out in plain type, and get revisited on "Feel Like Going Home" and "Hayseed Strut." When the tempos rise they turn the wheel slightly away from the Big Joe Turner vibe CBK espoused in the past, and seek out their inner Chess Records via Muddy and John Lee. Elsewhere on this Blind Pig Records release — for which this show is a release party — there's a sly nod to Sun Studio on "Blues Come Around" and a playful addition to the canon of songs about Chicago: "Fraulein On Paulina." Dankhaus patrons beware! (Friday@Buddy Guy's Legends with Killer Ray Allison and Jimmy Johnson.)
Darren Keen, providing the view from Nebraska, sounds like that fabled U.S. patent agent who opined that the office should close because there was nothing left to invent. Unlike that fictitious character, Keen has chosen not to resign after learning there are no more combinations on the 12-tone scales to make music with, and he'll plod on. Recording as Touch People, Keen's simultaneously released Show Me Your Dimensions and Sound Expression (Illegal Art) to explore electronic concepts with little taste for pop confection. His expressions mix monotone, chromatic, tri-tone, and non-linear progressions that take equal liberties with volume, pacing, and MIT-worthy rhythmic philosophies. (Sunday@Panchos with I Luv Luv Birds, Moritat, and Xyzr_Kx.)
— Steve Forstneger
Dwelling in the underground largely unseen and ignored by mainstream outlets and audiences, the metal and hardcore communities have proudly brandished the confrontational (some might contend, unproductive and anti-social), abrasive facets of their music, and have been rightly suspicious of trends that might erode that power. Once strictly confined in respective camps, straitjacketed by ideology that restricted musical expression and attitudes, bands (and fans) now freely mingle among genres, and such distinctions are mostly meaningless except as historical references. Both share an affection for aggressive expression, volume, and crucially, cultivating minority status.
But, take a look at this…
Billboard Top 200 – October 1, 2011
1. Own The Night – Lady Antebellum
2. 21 – Adele
3. The Carter IV –Lil Wayne
4. Halfway To Heaven – Brantley Gilbert
5. Staind – Staind
6. 1 – The Beatles
7. Here For A Good Time – George Strait
8. A Dramatic Turn Of Events – Dream Theater
9. Watch The Throne­ – Jay-Z / Kanye West
10. Dead Throne­ – The Devil Wears Prada
Take a close look at that list of top-selling album for the first week of October, and let that roster of artists sink in for a moment. Besides the perfectly hilarious progression of album titles from 7 – 10, to see the blistering metalcore monster The Devil Wears Prada on the same list as The Beatles, Jay-Z, and Adele is almost incomprehensible; but, if you consider that TDWP's last album, With Roots Above And Branches Below (Ferret), debuted at 11 when it was released in 2009, it's a little less shocking. Still, there are at least a hundred abrasive/melodic metalcore acts prowling stages across the country, so what sets TDWP apart from the pack – not only within the genre, but across the musical spectrum that accounts for this level of success? It can't just be the name, or those clever/inane song titles, right? In the grand scheme of things, answering this question is irrelevant, but within the sociology of music, understanding how a band that unleashes this style of intense, pummeling sonic warfare can achieve this level of acceptance is pretty interesting.
For starters, maybe it's the blend of musical contradictions – using deathmetal growls to highlight passionate lyrics about redemption and faith, injecting ambient keyboards in a way that doesn't scream "prog-metal," layering gang-style vocals that have a choir-like effect – packaged into tight, aggressive punches that leave you bruised and breathless. Check out the opening cut from Dead Throne (Ferret) for a supreme example of how effectively TDWP combines these elements. Perhaps it's the near-perfect blend of throbbing density, melodic airiness, and throat-gripping sonic churn that its mastered over the course of four albums. And maybe this magic combination, peppered with some invisible alchemy, tilts the demographics in its favor: females flock to this band like no other in the metalcore community. The band seems to understand the unique standing it holds, and early press is that it has made major upgrades to the live production, staging, and sound (which was already stellar) for this tour supporting Dead Throne. It will be interesting to see and hear the improvements, and we're expecting a mammoth-sounding, fiery spectacle. And lots of girls. (Sunday@House Of Blues with Whitechapel.)
— Patrick Conlan
Category: Featured, Stage Buzz, Weekly