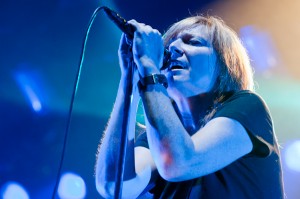 Portishead's first Chicago show in well over a decade was often magnetic without an excess of on-stage motion. This British group, which stood at the forefront of the trip-hop/down-tempo ascension in the early '90s, played it cool and composed while revisiting its three-album catalog on October 12th.
Plenty of positive reviews could be heard from fans leaving the Aragon, perhaps most memorably one who said the show "sounded like the live album [Roseland NYC Live]." While Portishead's Chicago set wasn't quite as orchestral as its catalog entry, the six-piece touring band brought the best out of tracks like "Sour Times" and "Cowboys."
Vocalist Beth Gibbons was especially impressive even as she stood in her most idle state; with mic in hand, she seamlessly transformed from jazz-minded singer to gravely voiced rebel. Interestingly, it wasn't until the end of the show that Gibbons made a point to really move around the stage – though it was to wander and watch producer/percussionist Geoff Barrow and the rest of the band get down instrumentally.
Barrow was also a focal point of the night, as he turned from drums to turntables and other gear, adding a new dimension to songs such as the industrial-tinged "Machine Gun." During its performance, one of the more climatic moments went down: while Barrow's programmed beat was mixed with robust live percussion, the sight of a gigantic sun rose behind the band on the projection screen.
It was easy to appreciate Barrow's studio process by seeing how he works fluidly in a live setting. Coupled with Gibbons sometimes restrained but always arresting vocals, Portishead's shifting sonics effectively filled the Aragon Ballroom and kept thousands watching and nodding their heads.
— Max Herman
Category: Featured, Live Reviews, Weekly