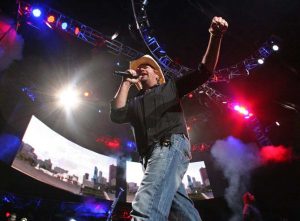 Toby Keith and his marketing machine hit town Saturday for a one-day blitz. Coming in after a Friday night gig in St Louis, he kicked things off by signing bottles of his new Wild Shot Mescal at a local Beverage Depot. Then there's juggling the details of his "I Love This Bar & Grill" (opening in Rosemont in early 2012) and promoting a new album (Clancy's Tavern) hitting the streets October 24th. And, oh yeah, there's that group 17,000-plus waiting to be entertained later that evening.
For an exclusive Toby Keith photo gallery, visit our photo site!
Despite the chilly night, the faithful were packed to the outer edges of the First Midwest Bank Amphitheatre for the last concert of the Tinley Park outdoor season. The people watching ranged from the tiny jean shorts/cowboy boot combo to the over-imbibed, suburban cowboy in the flannel shirt trying to stay upright while Eric Church opened up with a rowdy 65 minute set that set the tone. He jumped through a mix from his three albums and ended by filling the arena with enough smoke to engulf the whole stage. He did well for himself as an up-and-comer to the big stage. (But lose the sunglasses. It's dark out, O.K.?)
The big man of country and his Easy Money Band took the stage at 9:15 after a long 10 minute commercial for the truck company that is underwriting this "Locked And Loaded" tour.
A gum-chompin' Keith started strong with "Bullets In The Gun" and "American Ride," insuring he was going to see a night full of fist pumps from a crowd already on their feet. Six songs into this large bar party, backup singer Mika Roberts took centerstage to belt out the often redone 1975 hit, "Lady Marmalade." At this point, Keith turned into the band's bartender — going around to everyone with a bottle of "colored water" as he said, making sure no one on stage was thirsty. A devoted Jack Daniel's guy, he toasted the crowd, the military, police and fire departments, and just about everyone else, always returning his black cup to the nifty holder on the microphone stand.
Keith has his share of ballads in his discography, but fitting them into an arena tour doesn't always work. "Does That Blue Moon Ever Shine On You" was voted in by his fan club as a song they wanted to hear on this tour, and Keith obligingly showed his range and related how record company executives panned the hit when it was first recorded. The biggest laugh of the night came when he tossed his wireless mic into the crowd and a couple of guys in the pit proved that karaoke night winners will never show up seasoned performers.
His shows don't usually vary from night to night, but it's a well-polished two-hour, 20-song journey. When Chris Brown pulled in only 9,000 the night before, and the biggest draws of the summer came from the country acts, one wonders if this is now the new rock 'n' roll your parents hated. Kind of almost makes you feel like gettin' a Stetson and some Tony Lama boots.
— Brian Ormiston
Category: Live Reviews, Weekly