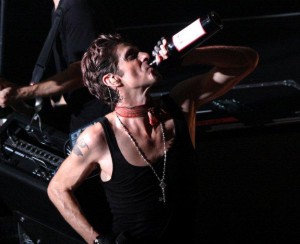 The record industry loves to gauge success by numbers. How many units did it move? At what spot did it debut? How many weeks did it stay on the charts? But you never see the intangibles on the spread sheet, specifically influence.
For a complete photo gallery, visit our pics site at illinoisentertainerphoto.com.
When they came bursting out of their L.A. music scene in the late '80s, Jane's Addiction looked and sounded like no other. They married heavy metal riffs to danceable grooves, finally making it safe for the Mullets to find the orbit of their hips. Militant art punks could now publicly avow their love of bloated dinosaurs like Led Zeppelin without getting called out on the indie-cred carpet. Ultimately, it would become the olive branch that ushered in the Alternative Nation and would soon spawn Lollapalooza, Gen-X's version of Woodstock.
On Thanksgiving weekend in 1988, Jane's Addiction played two nights at what was then called Cabaret Metro. They had just released their groundbreaking second record (and major label debut) Nothing's Shocking. Tickets were three bucks and the opening band was an up-and-coming quartet from Chicago who called themselves Smashing Pumpkins.
Fast-forward two-plus decades. The band returned to Metro over the weekend for a two-night residency in advance of their fourth studio record, The Great Escape. When tickets went on sale, they disappeared in a blink, a testament to, not only a devoted fan base, but also staying power.
For their trouble, the faithful were treated to a career retrospective. The setlist was a fan's wet dream that touched on every era of their catalog. But before you cry nostalgic cash grab, note that the new material ("Irresistible Force," "The End Of Lies") showed a heretofore versatility that begs a Second Act may be in the offing.
The band stormed and swaggered. Guitarist Dave Navarro struck all the requisite guitar-god poses. His fretboard shredding and meaty chords were as hard and chiseled as his tattooed torso. Frontman Perry Farrell flailed about, part aerobics instructor, part escaped patient. Never-been hits like "Mountain Song," "Stop," "Been Caught Stealing," and deeper cuts like ". . . And She Said" and "Ted, Just Admit It" were greeted like the second coming.
Throughout the proceedings, Farrell played the dual roles of host and con man: beaming with satisfaction one moment and threatening to pinch your girl out from under you when you turn your gaze. But that's always been the appeal of Jane's Addiction. You're never quite sure where their coming from or where they might be heading.
— Curt Baran
Category: Live Reviews, Weekly