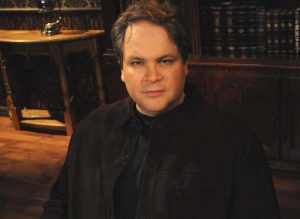 There's an old saying that goes "It's better to have an unpopular opinion that's popular than vice versa." Actually, that's not a saying at all. I'm not even sure it makes sense. It's either cosmic or idiotic. I made it up while listening to Grand Magus (Iron Will!), drinking coffee, and writing this column one early Sunday morning (woken by a call from my credit-card company about some dildo lord making $2 vending-machine purchases in Pennsylvania with my digits). I needed an intro, and that manufactured adage possibly proves a point about this month's interview: You may not agree with Eddie Trunk's opinion but you like and respect him enough to listen.
And Trunk, the host of VH1 Classic's "That Metal Show" and SiriusXM Radio's "Eddie Trunk Live," isn't egotistical enough to claim his new – and first – book, Eddie Trunk's Essential Hard Rock And Heavy Metal (Abrams Image), is gospel. The title uses "Essential Hard Rock And Heavy Metal," but, as Trunk tells us, the key, actually, is the "Eddie Trunk's" part.
"It's my list, and to me [the bands] were important as a fan and personally. I'm not telling anyone this is the bible of rock. It's my personal take," Trunk told "Caught In A Mosh" via e-mail.
That kind of honesty gets Trunk off the hook for the Billy fuckin' Squier selection. Plus, Essential is a fantastic book to look at. Thirty-five bands get full chapters (filled with great concert photography by Ron Akiyama), and another 27 get a paragraph in the "More Essential" section. Trunk's writing isn't all that strong, but his enthusiasm is. Plus, he has an array of colorful stories about bands like Motorhead, Judas Priest (Rob Halford wrote the foreword), Rush, and Deep Purple from years and years of covering them for radio and television. If he didn't have those rich stories, this would just be another list. And, as this columnist can attest, any ol' asshole can make a list.
Mosh: How long did you work on this book before it was ready for publication?
Eddie Trunk: It was a much longer process than I thought. The text and revisions took a long time and then all the work my publisher put in on design, layout, photos, etc. I'd say it was easily a year. The process was easier because one person did almost all the photos, my good friend Ron Akiyama. He gave a personal connection to me and the book, so that was a big plus. I'm used to radio being so immediate, but it seemed like forever with a book.
M: How long did it take simply to come up with your definitive list of 35? Were there any particularly tough choices or ones that you went back and forth on?
ET: So tough! The bands in the back of the book that just get quick mentions were full chapters, but they had to be cut for space. In the end the book has my name on it, so I went with 35 key bands I either personally love or had great stories with and felt they made a contribution. I have always loved hard rock and metal, so you get Anthrax and Slayer, and Bon Jovi and Billy Squier. I've always been about that in everything I have done. The playlists were also edited, which was tough. I intentionally left out big hits. I mean I don't think I need to tell [Guns 'N Roses] fans about "Welcome To The Jungle" at this point.
M: Was it tougher to come up with a definitive list of bands, or an "Eddie's Playlist" of songs for those bands?
ET: List of bands. There are tons of bands I like not in this book. Maybe a sequel one day? But this was what I wanted to feature that I thought shaped these scenes and me as a rock and metal fan. The playlists are just a tiny sample and the amount of songs had to fit in the space allowed. I hope people know the playlists are only a guide to maybe expose lesser-known songs from the bands and they are not in any order. Tons more songs I love from these bands, but again, space was an issue.
M: Is it fair to say you're partial to Dio-era Black Sabbath?
ET: For sure. I talk about in that chapter that my introduction to that band came in 1980, and my first album was Heaven And Hell. So that was so special to me. But of course I love and respect the Ozzy stuff now as well. But the Dio era was where I discovered them while in high school.
M: Ronnie James Dio was obviously a cherished friend of yours and plays a big role in this book, as the frontman for three featured bands (Sabbath, Rainbow, and Dio). Do you have an all-time favorite R.J.D. story?
ET: Ronnie was a dear friend and it was a tremendous honor to have been asked to host his memorial when he passed. There are a ton of stories, and the book is also dedicated to him. His chapter was tough because I wrote it before he died, then had to rewrite it after coming back from the services in [Los Angeles]. I remember most of the personal stuff: just hanging out, talking music, sports. In 2006, I was in England for a VH1 Classic shoot to cover the reunion. Ronnie and I were at the same hotel and checked in the same time. He talked me into not going to my room to sleep and having a drink at the pub. That led to hours of drinks, amazing stories, times I will never forget. I also remember that night the Giants were on Monday Night Football. We were both Giants fans and the game starts at like 3 a.m. in the [United Kingdom]. He made it up to give me a full report the next day. Just an amazing man and obviously a great talent as well.
M: In your Megadeth chapter, you touch on the whole situation with Metallica being inducted into the Rock And Roll Hall Of Fame. In your mind, should Dave Mustaine have been inducted with them?
ET: I think Dave played a huge and important role in the evolution of Metallica, but I agree with him not having been inducted with them. I don't agree with much about the Hall but do think the original band is always thought of as the guys on the first album. If you get into earlier stuff it can then get real sticky and complicated. Should all the other pre-Kill 'Em All guys also been inducted? Metallica invited all the early guys in the band, and that was a class move to acknowledge them, but where do you draw the line? If Rush ever gets in John Rutsey should be acknowledged, but that's a case of the first-album lineup not considered the classic lineup. It's all subjective, I suppose. Where was Dio with Sabbath?
M: Skid Row are probably the most "modern," chronologically, of the bands included, too. Has there really not been an essential band to come out since 1989?
ET: Essential? I don't know. Certainly bands that have come out since 1989 I do like. I mean, again: it's all personal. To someone younger, Pearl Jam, Nirvana, etc. may be essential. It all depends upon your view and when you grew up.
M: It would be an unpopular choice, of course, but wouldn't Nirvana technically be an essential hard-rock band?
ET: Sure. I mean they are looked upon as the band that ruined many of the groups I have in my book. Not intentionally of course, but I think everyone knows what I mean. That being said, they were a game changer and started a whole new direction in the '90s for better or worse. I deal with earlier stuff, when I grew up, and [grunge] just did not mean the same to me. Love Soundgarden, Soul Asylum, and some others though, and Foo Fighters are great.
M: Top 5 essentials of your existing 35 essential list and why? Ready? Go!
ET: Again, it is personal, so the bands that had the most impact on me as a kid: Kiss, UFO, Judas Priest, Aerosmith, Rush.
MOSH-WORTHY: High Spirits Another Night In The City (self-released); Anthrax Worship Music (Nuclear Blast); Chthonic Takasago Army (Spinefarm); Leprous Bilateral (Insideout); Opeth Heritage (Roadrunner).
– Trevor Fisher
Category: Caught In A Mosh, Columns, Featured, Monthly