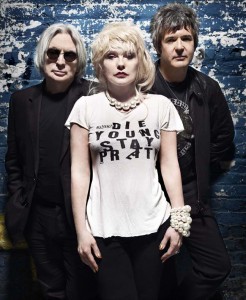 Unlike several veteran bands that cling to a repertoire of old hits, Blondie entertained a capacity crowd at House Of Blues Wednesday night with several tracks from its latest release, Panic Of Girls.
The current lineup, which includes original members vocalist Deborah Harry, guitarist Chris Stein, and drummer Clem Burke, blasted through "Love Doesn't Frighten Me" shortly after taking the stage. It's a highly melodic new song that fits right in with the Blondie catalog. Surprisingly, Harry scarcely mentioned  Panic Of Girls throughout the concert, as new songs like "What I Heard" and "Mother" seamlessly meshed with crowd favorites like "Dreaming," "Union City Blues," and "Call Me."
Blondie's intense energy ensured that the audience wouldn't grow restless during the less familiar material, with Panic's "Words In My Mouth" serving as the concert's only slow song. Initially, Harry was barely recognizable in huge sunglasses and dowdy taffeta skirt, but by mid-show, she had ditched both for a more characteristic black jumpsuit and red belt. She charmed her fans, especially on an extended version of "Rapture" that found Blondie mining the song's irresistible techno groove. There was a roar of approval as she spat, "Do the punk rock!"
A brief cover of the Beastie Boys' "Fight For The Right (To Party!)" served as a bridge from the delirious "Rapture" to the exuberant finale, "One Way Or Another," which had hundreds of people singing in unison. The encore began with a touching version of Johnny Thunders' "You Can't Put Your Arms Around A Memory" before Blondie said goodnight with their biggest hit, "Heart Of Glass." It would have been nice to have heard "Rip Her To Shreds" or "Hanging On The Telephone," but overall this was a courageous and high-powered mix of old and new music.
Chicago's coed indie rock band The Handcuffs proved to be a potent opening act, drawing heavily from their impressive third CD Waiting For The Robot, which had been released just the day before. Entertaining a crowd that's eager to see a legend like Blondie is always a challenge, but the Chloe F. Orwell/Brad Elvis-led group succeeded with energetic and melodic fare like "Miss You On Tuesday" and "Dirty Glitter." Guitarist Ellis Clark provided plenty of firepower throughout The Handcuffs' set, including a romping cover of Mott The Hoople's "All The Way From Memphis."
— Terrence Flamm
Category: Live Reviews, Weekly