Recording In Hi-Style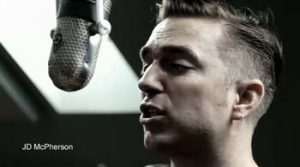 With a voice that channels the spirit of Little Richard and James Brown, JD McPherson recorded his debut album, Signs & Signifiers, for Hi-Style Records, in the local label's hometown studio. McPherson traveled from his home in Broken Arrow, Oklahoma, to the home to a vanishing and now unique recording technique: 100-percent analog. The album's dozen songs were recorded through a collection of vintage microphones into an '60s Berlant half-inch tape machine, all under the watchful eye of bassist, producer, and Hi-Style owner Jimmy Sutton.
McPherson says, "I have recorded this style of music in the digital realm, and it just doesn't quite 'sing' as much. Slamming that 1/4-inch tape really hard produced the most beautiful distortion I've ever heard." The album features several guest musicians, including Scott Ligon on piano (NRBQ's Terry Adams Rock & Roll Quartet), while Jonathan Doyle (Nick Curran & The Lowlifes, White Ghost Shivers) and Chicago's Josh Bell (The Del Moroccos) blow tenor and baritone saxophones. Susan Voelz (Alejandro Escovedo, Poi Dog Pondering) plays violin and Allison Chesley (Helen Money) adds cello, with both contributing a beautiful arrangement to the soulful "A Gentle Awakening." Rounding out the album's guests, Joel Paterson (The Modern Sounds) lends choice guitar work to the Joey Simone classic, "Your Love (All That I'm Missing)."
Rapper Na Palm has recorded his full-length, Late At Night. It's available for download at www.napalmlive.com. After logging thousands of miles, touring in the college and club scene in 2011, Na Palm says, "The album should appeal to those love hip-hop, dub step, and electro. I keep my shit positive and stay in my lane. I'm just doing what I do: rappping about girls, partying, and the struggle to come up over the music that inspires me."
With a voice that's nearly a dead ringer for Waylon Jennings, Bill McAlister and his band I-57 South have recorded their Illinois Opry EP at Patrick Doody's Drumhead Recording in Westmont. The band consists of McAlister on guitar and vocals, Doody on drums, and John Falstrom on bass.
At Million Yen in Chicago, Viceroyand Shift worked on new CDs with Andy Gerber . . . Engineer Jeff Dean recorded two songs with Bob Nanna (Braid/Hey Mercedes) and an EP for About The Mess . . . Engineer Pete Carparelli recorded an EP for Marshfield and an EP for The Money Back Guarantees . . . Sciphonic Productions recorded two songs with The Infected, and are working on a full length with Stoop Good Noise.
At Engine Studios in Chicago, Rwake recorded the follow-up to Voices Of Omens with engineer Sanford Parker. Rest will see its North American release on September 27th on CD, digital, as well as olive green and 180-gram black vinyl. Rwake sees the premiere of"It Was Beautiful, But Now It's Sour", as a near-12 minute reawakening of the band.
Hey Studiophiler: To get your studio or band listed in "Studiophile," just e-mail info on who you're recording or who's recording you to ed [at] illinoisentertainer.com, subject Studiophile, or fax (773) 751-5051. We reserve the right to edit submissions for space. Deadline for October 2011 issue is September 15th. We need your news, you need us to print it.
Category: Columns, Monthly, Studiophile