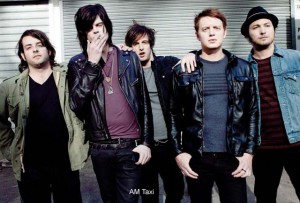 There's nothing wrong with another festival, so long as you have a point to it. Entrepreneurial Chicago-based/focused band manager Shawn Kellner wants to start a Local Music Revolution this weekend at Metro, and so he shall have one.
The Internet has played an inestimable role in quickening globalization, and as it builds so does the boldface type surrounding the adage, "the Web will help you meet someone across the world, but not necessarily across the street." It's with that in mind that Kellner turns his regional showcase that chewed up two nights last year at the Congress into a three-day extravaganza at Metro from the 12th through 14th. Now, before you say "Mobfest," the stress isn't so much as learning all the tricks to get signed — headliner AM Taxi can tell you all about being one-and-done with a major label — but fostering community and building a regional base. A single seminar will be held at 3 p.m. on Saturday, pitched as a forum to gain consensus on the highs and lows of the Chicago music "scene."
What of the bands and schedule? Well, most of that info, as well as tickets and passes, can be found here. Along with AM Taxi, you'll also be privy to sets from Makeshift Prodigy, The Last Vegas, Footlight Frenzy, and The Gelheads.
Also beginning Friday, The Steepwater Band kick off a two-show stand at Beat Kitchen. Having flitted between rock clubs like Double Door (where they recorded a live album) and blues haunts like Buddy Guy's for the better part of their career, Steepwater don't make a concerted launch in either specific direction on Clava, for which these shows will serve as release parties. The thick, low tone on most of the cuts shows more signs of The Black Keys than ZZ Top boogie, with "Vanishing Girl" still making the band sound incredibly Southern. "Come On Down" could be Buddy Guy, "Love Never Ends" divines Tom Petty, while "Bury My Burden Deep" could just as easily be Superdrag. Halfway through the album with variety like this? No wonder they need two shows. (Friday&Saturday@Beat Kitchen with Backyard Tire Fire and Sons Of Hazelwood, respectively.)
Once missing from the reunion circuit, pop-metal supergroup Mr. Big make their Chicago return behind an album that won't shame the legacy. Built on the virtuoso chops of bassist Billy Sheehan and electric-drill lover Paul Gilbert, the band found a home among six-string fanatics until breaking through with a pair of power ballads in the early '90s: "To Be With You" and "Just Take My Heart." Grunge soon eclipsed the sun, but the road back to What If . . . (Frontiers) seems worth it. An edge replaces the padding of the softer side that casual fans will remember. Though a celestial love song pops up early for Eric Martin to croon, what stands out most — aside from Gilbert's impatience with Van Halen-esque fills — is the grit that underpins these stylistically tethered, but by no means mailed-in jams. (Friday@House Of Blues.)
— Steve Forstneger
Category: Stage Buzz, Weekly