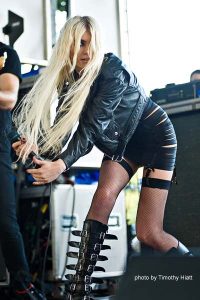 As an actress, Taylor Momsen could have remained involved in high visibility projects like "Gossip Girl," where she played the character Jenny Humphrey. Instead, Momsen opted to pursue a music career as frontwoman of The Pretty Reckless, an act aiming for a polished, Celebrity Skin-era Hole approach. The group's debut effort, Light Me Up, dropped in 2010, and Momsen & co. performed in support of the album at this past weekend's Lollapalooza, where the frontwoman also found time to speak to IE.
IE: Obviously you've been involved in the performing arts all your life. How does a music career compare to the other media and performance projects that you've been involved in?
TM: There is no comparison, music's everything. It's all I want to do for the rest of my life, and, pretty much, I think we got a good thing, so, we're excited.
IE: Have you brought anything from your acting background into The Pretty Reckless?
TM: Not really, they're kind of completely two separate entities. Music is, it's self-expression, I'm singing my own words, we wrote the songs, so it's not — I mean, there's an element of performing onstage, but you're not seeing a character or anything.
IE: Is that something you're more in favor of, being expressive of who you truly are vs. playing someone else's written character?
TM: Yes.
– Jaime de'Medici
Read the full version in the forthcoming September issue of Illinois Entertainer.