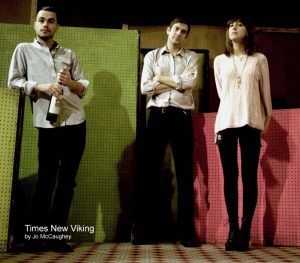 Banging around for several years, both Times New Viking and White Denim have resisted convention in the rapidly conforming world of indie rock. Both are in town this week. Also this week: The Singleman Affair and Small Sur.
Presaging the trend toward sheet-of-noise garage rock by about a year, Times New Viking found an audience by not being likable. Their truculent recording standards were the face of this; if tracks weren't shockingly brief, their lengths were underscored by ear-damaging volume and brutal EQ. In the age of the iPod, the band almost dared you to listen on headphones. After two limited releases and a further pair of albums on Matador, TNV switched to Merge Records for Dancer Equired!.
That it arrives stripped of those stylistic tropes comes as no surprise – it was bound to happen eventually. But instead of inviting people to hear their songcraft more clearly, they replaced the shrillness with a wobbly tunelessness in almost every possible regard: singing, guitarring, and drumming. Call it bravery or insolence, they make you work for each tiny reward – of which there are a few. (Wednesday@Empty Bottle with Tyler Jon Tyler and Dusty Babes.)
White Denim's elusiveness owed itself toward an erratic record/release cycle that bounced between iTunes, RCRD LBL, EPs, EP compilations, overseas albums, and re-releases of those in the States, before being harnessed by major-indie Downtown Records.
This sort of puddle hopping might hint at punk abandon, but D dives into tricky psychedelic-rock waters, before that term became a style with rules. The label money went 100-percent into the production warmth, which helped keep their incredibly intricate, rhythmic interplay crisp but not overwhelming. Some have compared the record to when Grateful Dead still had garage-rock push behind them, and you could throw Steve Miller into that conversation as well. The only real mess up is "River To Consider," which flips through prog-rock cliches like a Photoshop instructor demonstrating filters. If the track's meant to symbolize a still-beating brattiness, consider the job done a bit too well. (Thursday@Schubas with Mazes and The Static Jacks.)
Before the fireworks begin this weekend and you end up wondering not only why were you drinking Bud Light but how could it possibly go down so easily, consider some somber pop to put your troubles in perspective. Neither The Singleman Affair nor Small Sur are technically solo artists, though together they block out the sun as only lonely men can. The former's Silhouettes At Dawn (Cardboard Sangria) ushers out the melancholic Joe Boyd-isms and calls in a cadre of Chicago-related sessionmen, from the likes of Will Oldham's band, Califone, and Fruit Bats. Combined with Dan Schneider's Damon Albarnesque lope, it gives the shape of someone lost in the desert at night. Small Sur, despite actual ties to noisesculptors Wye Oak, recall another locally tied artist, Bill Callahan a.k.a. Smog. (Thursday@Panchos with Thin Hymns and Angel Olsen.)
On Never Be, Kelley McRae had her share of heartache, though the soulful "Nothin' To Lose" presented it flirtatiously. Touring behind its followup, Highrises In Brooklyn, McRae sounds a little jaded, particularly worn on the sister track, "More Of Nothin'." Recorded at Brian Deck's Engine Studios in Chicago, McRae steps distinctly (though not overtly) away from her coffeehouse past, mixing her emotions with the delicate self-harmonizing of "Keep You" and the increasingly pronounced bassline under opener "Long Walk Home." She still falls prey to dear-diary tendencies, but those entries have turned a little dark. (Thursday@Martyrs with Stutter Vision and Killing Train.)
— Steve Forstneger
Category: Featured, Stage Buzz, Weekly