Q&A With Cathy Richardson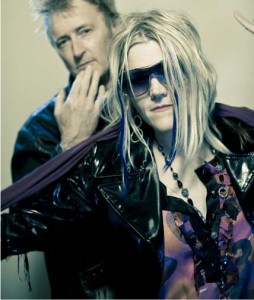 IE: What led you to forming your new group, Macrodots?
Cathy Richardson: I met Zack [Smith, also of Scandal fame] when I was living in San Francisco and we started writing together. He's a very prolific writer and producer and he had a lot of great tracks without lyrics or vocals. The first song we wrote was "Save Me." It was a complete instrumental arrangement when he played it for me, and it's such a heavy track; the lyrics just flowed out and I cut the vocal then and there. That first take actually ended up on the record. We knew we had something serious at that point. Zack played a lot of the guitars, bass and keys on the record and I did the vocal arrangements. We also used some really cool studio musicians and tried a few different lineups live, but ended up using the band that had been backing me for the past several years. I met [guitarist] Jude [Gold] on Myspace, believe it or not, and I was working with [drummer] Donny [Baldwin] in Jefferson Starship and then it turned out they had worked together in JGB. Jude is an editor at Guitar Player Magazine and he introduced me to [bassist] Jon [Herrera], who was working at Bass Player. Anne Harris and I have been playing together for years in my Chicago based band. She's my not-so-secret weapon. 
IE: What type of sound and overall vibe were you going for on The Other Side?
CR: We set out to make a desert island album, a defining album, with undeniably great songs that sound fresh, but with a nod to the great classic bands of rock that we love, like Cheap Trick, Zeppelin, The Beatles, AC/DC, The Pretenders, Heart, David Bowie, Aerosmith, etc. I'd call it retro-modern power pop with a psychedelic twist. [Laughs.]
IE: How did you get hooked up with Jefferson Starship?
CR: I was doing "Love, Janis" in San Francisco and had just signed a lease on an apartment and then, bam, the show closed five days later. Luckily for me, Big Brother & The Holding Co. were going out on a tour of the U.S. for the 40th Anniversary Of The Summer Of Love and they asked me to sing with them. Jefferson Starship were the headliners on that tour and Diana Mangano, who had been with them for 13 years, decided to leave right after that. So, it was another right place, right time situation. I have always been a huge fan. I grew up listening to them so it was a very natural fit. Right after I joined, we made a record of old folk songs called Jefferson's Tree Of Liberty and toured that acoustically with David Grisman on mandolin. We also went to Europe and Japan, which was a first for me and a lot of fun. 2009 was the 40th Anniversary Of Woodstock and we toured the U.S. with another package called "Heroes Of Woodstock" and played a lot of big sheds, including Bethel, New York at the original site on the actual anniversary, doing the same set the Airplane had played. That was filmed in 3D for a documentary that will presumably come out someday [laughs]. This year is Jefferson Starship's 40th anniversary, so our set is mostly early '70s stuff from Blows Against The Empire, Dragonfly, Red Octopus era. We're playing a show in June with the Cleveland Youth Symphony that's being taped for a future broadcast on HD Net. 
IE: What are your current and future solo project plans?
CR: Thankfully, I can always write whatever comes out of me without concern for writing for a certain "project," so I just continue doing that and playing solo and duo acoustic shows with Anne [Harris] to round out my calendar. I don't have plans to make a new solo record anytime soon; I'm really just focused on pushing the Macrodots forward. I consider this the new Cathy Richardson Band.
IE: How are you able to balance all three acts?
CR: It takes a lot of coordination. Jefferson Starship plays about 60 shows a year, which theoretically leaves 75 percent of the year open, but they are most active in the summer when a lot of things are happening for my band, too, so it can be difficult. Then, there's a lot of time when I'm scrambling to fill my calendar, like in the winter months when touring gigs dry up. Obviously, I can't do everything all the time, so sometimes one or the other has to take a backseat. Also, Chicago is my main market, but you just can't play every weekend around town like I used to in the '90s. There are so many national acts in venues of all sizes coming through town on a daily basis. I have to pick my moments so as not to oversaturate or compete with everything that's happening here. 
 
IE: What is your proudest career moment thus far and why?
CR: There have been so many great moments, it's hard to pick just one! The Grammy nomination was a major accomplishment for me as a DIY artist, even though it wasn't in a musical category ["Best Recording Package" in 2004 for Road To Bliss], it was still a huge honor to be recognized for the creativity and work we put into that record and it did help to get the music heard. I also got to take my parents to the Grammys before my mom passed away, which was pretty awesome for all of us.
Cathy Richardson and Macrodots appear June 17th at Metropolis Ballroom in Arlington Heights. Q&A by Andy Argyrakis.