June Buggin'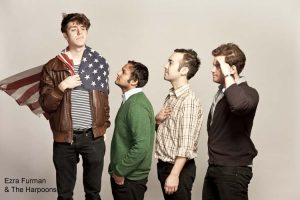 As if Middle Easterners don't have enough problems in this country, the term "Arab Spring" will become the opposite of "Indian Summer" and signify a relentless, wintry malaise. (You say it means revolution, well, you know . . . ) But at last it's June, and you can smash that icy lake breeze in the face with the plastic vessel of pale brew acquired at a weekend festival!
Check your local listings and sites like chicagoevents.com, starevents.com, and chicagofestivals.net for complete listings, and check out this month's "Sweet Home" for Blues Fest. Making our way through some of the bigger headliners, Smoking Popes, Treaty Of Paris, and AM Taxi are the kings of Sausage Fest on the 5th; 10,000 Maniacs howl at Wells St. Art Fest on the 11th; the 11th-12th at Northcenter's Ribfest brings Ezra Furman, Waco Brothers, Tapes 'N Tapes, and Hayes Carll; Pride Fest (24th-25th) revives Crystal Waters, Deborah Cox, and Mya; Green Fest the same weekend shoots out Yo La Tengo, Les Savy Fav, and The Thermals.
The Taste's budget got trimmed (with Gospel and Country Music fests folded into it), so instead of past-their-prime flops you get some sturdy B-listers and locals including Gold Motel, The Giving Tree Band, Heartsfield, Lil' Ed with Lurrie Bell and Eddie Shaw, White Mystery, Kevin Flynn, Jessica Lea Mayfield, California Wives, Empires, Material Reissue, and heavyhitters Loretta Lynn, The Jayhawks, Lemonheads, and Natalie Cole.
See (Sky) Saw
Jimmy Chamberlin's new outfit, Skysaw, come to Metro on the 25th. The former Pumpkins drummer brings former Jackfields Mike Reina and Anthony Pirog with him, for a more pop-oriented project than his ongoing fusion gig, Jimmy Chamberlin Complex. "This is more about songwriting, orchestrating, being in a band with collaborators," he says, "as opposed to going out to play jazz fusion, which is a part of me, just not this part." For now the goal is to play handfuls of shows and record, record, record. "I know I'm having a great time now. We're on the road, I'm setting my stuff up, we're in a van with a trailer. I've never really asked much more of music that that. We don't have any preconceived notions or grandiose expectations, especially in light of the current music business profile. The goal is just to have fun and put out as much music as we can, and maintain an economic profile so that we can keep doing it." Great Civilizations (Dangerbird) arrives on the 21st.
The Year Of Living Fat
Goose Island might have been slurped up by Budweiser/Imbev, we just hope Colorado-based New Belgium Brewing doesn't think we're begging for a void to be filled. The craft-beer shop will throw a party in Logan Square's Palmer Square park on July 16th, with a lineup championing indie-pop stars Free Energy, local "circus punk marching band" Mucca Pazza, The Dovekins, Daredevil Chicken Club, and Squirm Burpee Circus.
Yes, plenty of Fat Tire Ale will flow, but the event, dubbed "Tour De Fat" and visiting a dozen other cities, is more about filling up your tires. For a year. At the center of a costumed bike parade and other two-wheeled shenanigans is a contest or dare: turn over your car keys, and New Belgium will provide a Black Sheep commuter bike for you to ride for a full calendar. People interested in potentially swapping should visit Newbelgium.com for more details.
Cleansed By Fire
Café Brauer, the tony refectory south of Lincoln Park Zoo, has lasted 100 years and will go on to be enjoyed by the affluent for ages. Brauer House, the Hillside-perched punk-rock institution, didn't last a decade before it burnt to the ground – to its owner's horror – in 2008. And while Steve Brauer would probably prefer his original location likewise became an encrusted, venerated hall, he'd have to admit that an incineration followed by rebuilding is pretty punk rock.
We can all laugh about it now, right? The big bonus is that Brauer's new location – in one magazine editor's opinion – is in the greatest Western suburb in the world: Lombard. Tucked into a slot north of North Avenue and between Rte. 53 and I-355, grisled vets of the old establishment will find the same ambitiously life-threatening snacks (the frankenstein "tater tachos"), a tastemaker's brews, and, of course, edgy rock in the land of the cover band. Burn, baby, burn.
— Steve Forstneger