Take A Number And Get In Line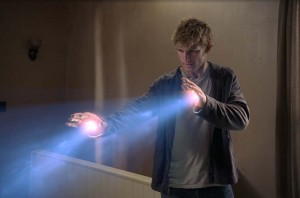 I Am Number Four Touchstone
No one ever said high school was easy. In fact, there are many who subscribe to the theory that "the greatest days of your life" are nothing but a constant series of kicks to the teeth. However, no matter how bad things get, you can rest easy knowing that, according to I Am Number Four, it's just as rough a ride for alien visitors to our humble planet.
But I Am Number Four serves a much greater purpose than exposing the rough ride visitors among us have in those awkward moments between homeroom and chem class; it also points out how much more difficult it's become to be a strange visitor from another planet in the age of cellphone cameras and YouTube.
The basic premise of Number Four is a group of nine aliens are here on Earth to protect if from a larger group of aliens bent on destroying us. It's never really clear why those aliens are here or why they want to destroy us. (My personal guess is they're not happy The Chicago Code got cancelled, either, and therefore we all must pay – but it might be something else.)
The bad news is the nine good aliens are getting bumped off. The good news: the aliens in the black hats seem to care more about knocking them off in numerical order than getting the job done by any means neccessary.
This is where our hero, John (Alex Pettyfer), comes in. See, he's number four, which means he's next on the hit list and is just starting to figure out his powers. After fleeing the sunny climes of Florida because he was outed online, John and his guardian (Timothy Olyphant) land in the bucolic community of Paradise, Ohio. Naturally, within five minutes of enrolling in a new school, he falls hard for the first girl he sees: Glee's Dianna Agron.
The film crawls by for about an hour as John's powers manifest. The high points are being able to levitate things and have glowing hands, the latter of which proving to be the most valuable: in the murky world of Paradise, Ohio, it's good to have a ready source of light, and it's much better for the environment to have glowing hands than burn through several D cells at a time.
Of course there's a big final battle, and of course they set things up for sequels by leaving more loose ends than a pair of cutoffs.
As far as the Blu-Ray is concerned, its sound and picture quality are excellent, but there isn't a wealth of special features lying around. Only a blooper reel and a few deleted scenes hold much interest.
Film: Features:
Heart: Night At Sky Church
Legacy
When you think about it, there really aren't many more influential female rockers than Heart's Ann and Nancy Wilson. Not only have they paved the way for throngs of women with guitars, but they've managed to stick around for decades. Sure, they are miles away from the fame they achieved in the late '70s and early '80s, but ya gotta love the fact that they keep chugging along.
Heart: Night At Sky Church finds the band in fine form and running through a mix of radio staples such as "Barracuda," "Magic Man," and "What About Love," as well as newer material.
Also included is a cover of Alison Krauss' "Your Long Journey," which happens to feature an appearance by Robert Plant's new-bestest friend herself .
They may not have the stage moves they used to, but Nancy remains a formidable guitarist and Ann's voice is still a force of nature. Night At Sky Church is a nice reminder that, while they may not have the chart success anymore, Heart aren't going anywhere soon.
Film: Features:
Also available . . . If you're anything like me (and if I were you, I'd pray to whatever deity it is I pray to that that's not the case), you found it physically impossible to get enough royal-wedding coverage in your life. Well buck up, campers. The BBC rides to the rescue with The Royal Wedding: William & Catherine, while PBS weighs in with William & Catherine: Planning A Royal Wedding. It's manna from heaven as you can toss on your favorite mumu, plant yourself on the couch, set the DVD machine to a constant loop, and experience wedded bliss from across the pond 24/7. But whatever you do, don't get so hypnotized by funny hats and shiny things that you forget to feed the 20 cats you have wandering around the house. Take it from me, Mr. Muffins and crew don't like it when they're ignored for too long.
— Timothy Hiatt
Category: Columns, Digital Divide, Monthly