The Coroner's Report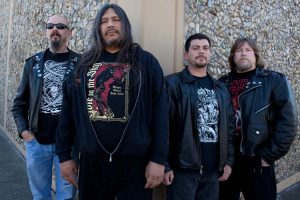 For various reasons (some sensible, some stupid), metalheads are skeptical of reunions. Especially wary are death-metal fanatics, who just can't seem to decide whether they love or hate the current comeback trend. It was lame-as-fuck, apparently, when Carcass (disbanded in 1995) toured in 2008 but awesome that Exhumed (hiatus since 2005) is back. (Exhumed plays July 23rd at Central Illinois Metalfest in Urbana, by the way.)
Not sure what the company line is on Autopsy, but it shouldn't be anything less than sheer delight because the Bay Area band is a true original of its genre. Chris Reifert (who, it should always be noted, played drums on Death's debut, Scream Bloody Gore), Danny Coralles, and Eric Cutler (Autopsy's constant members since forming in 1987) didn't invent death metal, or even the extra-splattered version it mastered, but its sound was unlike anyone else's. That said, on its first full-length in 16 years, Autopsy (joined by new bassist Joe Trevisano) still sounds unlike anyone else. Macabre Eternal (Peaceville) is a mix of the group's two phases during its initial – and limited – run: the raw thrash/grind of its late-'80s material and the moody, almost-doomy vibe of the '90s stuff.
Reifert, Autopsy's drummer and vocalist, was kind enough to answer a slew of e-mailed questions, spelling out his band's burial and exhumation.
Mosh: Can you explain the who/what/when/why/where of Autopsy reuniting?
Chris Reifert: The Who: Eric Cutler, Danny Coralles, Joe Trevisano, and myself.
The What: The weird gravebeast that is Autopsy.
The Why: 'Cause after 15 years of saying we'd never do it again, we still retain the right to change our minds. Haha!
The Where: Right here on our own stomping grounds with rehearsals in Oakland, California, though our first gig since reactivation was at Maryland Death Fest in 2010.
M: I'll go out on a limb and say it wasn't coincidence [Reifert and Coralles' post-Autopsy outfit] Abscess was pronounced dead the same day Autopsy was resurrected.
CR: I'll crawl out onto that same limb with you and say the two events were indeed tied together, buCR: I'll crawl out onto that same limb with you and say the two events were indeed tied together, but not exclusively. The original plan was to keep Abscess going and do a few things with Autopsy, but when Clint Bower left Abscess we had to split the band up, which resulted in the door swinging wide open for Autopsy to commit to a full time death-metal mission.
M: Was ending Abscess, a band you spent 15 years doing, a hard decision?
CR: It was the only logical decision since Clint was such an integral part of the band chemistry. Much like you have to have Eric Cutler for it to be Autopsy, you have to have Clint for Abscess to be Abscess. We tried to talk him out of leaving, but he had made up his mind and wanted to break away from the band and focus on his personal life. We have nothing but respect for Clint and wish him only the best. So out of that same respect, we decided to fold the band and call it quits.
M: All these years later, what do you think was/were the main reason(s) for Autopsy's breakup in '95?
CR: Mainly the last U.S. tour we did was the deal killer. It was long, grueling, and took the fun out of what we were doing. When it was over we knew the band couldn't go on any longer, so we decided to leave things on a strong note and record [Shitfun] and do a final gig, which we did.
M: Talk about the first "reunion," as it were, which was recording new material for the 2009 Severed Survival reissue. It was only two tracks, but it obviously laid some groundwork?
CR: Those two songs were strictly meant to be a special treat for the Severed Survival 20th-anniversary reissue and nothing more. It seems they really kicked interest in the band into an all-time high, though, and next thing you know we're getting a whole new wave of offers to do live appearances and stuff.
M: Was it easy to get back into "Autopsy" mode? You and Danny had obviously been playing together in Abscess, but how long had it been since you had jammed with Eric?
CR: It had been since the last gig in '95 that we'd last jammed with Eric, but when we all got in the same room and started kicking out the death-metal ugliness together, we were instantly transported into Autopsy mode. It's what happens when our weird personalities blend together or something, I guess.
M: Was last year's The Tomb Within EP recorded with the knowledge Autopsy would also do a full-length? If so, why not just use those five songs and jump straight into a new album instead? It was only about eight months between, after all.
CR: We had been on a songwriting bender and couldn't stop writing, like the handle on the faucet had broken off. Haha! So in a short amount of time we had amassed quite the pile of songs to deal with, which turned out to be more than one album could contain, so the choice to split it up a bit seemed to make sense.
M: Thanks, by the way, for not copping out and loading up Macabre Eternal with Tomb Within songs.
CR: No problem. Haha! We definitely try to avoid recycling things. After all, the reason for getting the band back together had nothing to do with reliving the past or anything. Honoring the past is one thing, but keeping the blood from stagnating is another.
M: Was Joe Trevisano an obvious choice for bassist?
CR: Oh, yeah. Danny and I had already been working with Joe since 1998, so the choice was up to him, and Eric as well. It was an easy decision for all involved, so no worries on that one.
M: What does Autopsy have against bass players, anyway?
CR: You'd have to ask Joe about that. Maybe if you persuade him thoroughly enough, he'll enlighten you on the intensive hazing rituals that are involved in being an Autopsy bass player. Seems he passed like a metal warrior, just don't ask him about the rusty barbed wire and leeches.
M: Based on your own expectations for the album, how did Macabre Eternal turn out?
CR: It came out like the disturbingly dark 12-headed mutant that it was supposed to. We definitely had a clear vision of what we wanted of it, and it was just a matter of sticking to that vision.
M: What's your reaction when someone tosses out "legendary" or "iconic" to describe Autopsy?
CR: Flattering, indeed. Too bad "sexy" isn't in there as well, but then again, have you seen us? Haha!
M: Has the band's comeback given you added perspective on how important Autopsy was to death metal?
CR: That's for other people to discuss, I think. We were and still are too busy making sure the band is what it ought to be, which takes up all of our concentration. I can tell you we are taking this very seriously as far as how we handle things, which includes working hard in the rehearsal room. The last thing we wanted to do was disappoint people after such a long wait.
M: Festival dates have been confirmed, but any chance of a U.S. tour?
CR: Unless we want to make this completely unenjoyable again, we are not going to do any full-length tours. Shit, even if we wanted to it just wouldn't be possible. However, we will be turning up here and there for some various live appearances. It's still great to get out there and spread the death-metal gospel of horror and see all the sickos who keep this band in their rotten hearts!
MOSH-WORTHY: Primordial Redemption At The Puritan's Hand (Metal Blade); Marduk Iron Dawn EP (Regain); Weekend Nachos Worthless (Relapse); Annal Nathrakh Passion (Candlelight); U.D.O. Rev-Raptor (AFM).
— Trevor Fisher
Category: Caught In A Mosh, Columns, Monthly