Digitech
Whammy DT Guitar Pedal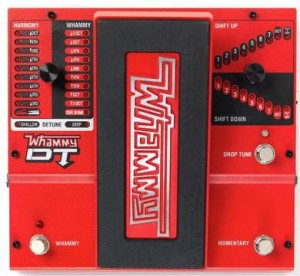 DigiTech's new Whammy DT guitar pedal does the original model one better by adding capabilities including drop tuning, capo tuning, and true bypass coupled with original features like pitchshifting effects. With updated technology, the new pedal's claim to fame is an expanded selection of pitch bending, including nine modes from two octaves up and down, to nine harmony-bending modes, two detune modes, and the sometimes over-used dive bomb/six octaves down effect.
The Whammy DT also lets guitarists and bassists capo up or down seven half-steps to save players the hassle of manual capos or drop tuning. To add some real guitar mayhem to a performance, Whammy DT features a momentary footswitch for real-time stepped pitchshifting to create hammer-on and pull-off type effects. Players can instantly get a drop or raise in the pitch of the notes they are playing by stepping on and holding the footswitch and releasing it to return to pitch for a dramatic effect during solos and riffs.
Various other effects can be selected via the pedal's two selector knobs and dual set of LEDs indicators. As with most higher-end pedals, Whammy DT includes a 1/4-inch guitar input and output, a MIDI input that allows control of the pedal from an external MIDI device, and an external 9-volt DC power adapter. With an all-metal chassis, pedal, and footswitch, it's designed to last longer than plastic pedals, especially for those type of players who've got a heavy foot
DigiTech sells an optional FS3X three-button footswitch controller for added expressive capabilities with the Whammy DT, at an added cost (about $50).
"It was no easy task to improve upon a product that has been as successful as the legendary Whammy," said Rob Urry, Vice President and General Manager of Harman Professional Signal Processing Group. "But we feel that we have exceeded this goal by expanding the feature set of the original Whammy with drop tuning and capo tuning capabilities, as well as true bypass operation now available in the Whammy DT." With its $449.95 price tag, this whammy isn't cheap. But it's not a throwaway pedal, it'll last you awhile, leadfoot. Visit Digitech online.
EMG
JH Set Guitar Pickups
Metallica founder and frontman James Hetfield brought out his all-new heavy artillery (is there any other kind?) on the North American leg of the Big 4 tour by debuting his new EMG JH Set pickups.
The JH Set was designed with the sole input of Hetfield, which is a new experience for the company, as they usually share ideas with multiple designers. Hetfield wanted to design a humbucker pickup that had a "stealth" looking design "that captures the clarity and punch of a passive pickup and still retains the legendary active tone that molded a generation," according to EMG.
It features metallic-based black nickel-plated caps and EMG's Solderless Installation System, which consists of the JH-N (neck) and the JH-B (bridge). Both pickups were patterned after the pickups Hetfield has used for 30 years in Metallica, but the end result was substantially different based on changes in technology and a larger pickup size. The JH-N has individual ceramic poles and bobbins that feature a larger core that produces more attack, higher output, and fuller low end in the neck position.
The JH-B uses the same type of core as the JH-N, but has steel pole pieces, that produces the familiar tight attack "with less inductance for a cleaner low end," according EMG.
Suggested retail for the JH Set is $299.99, and we recommend your local guitar store install them because you don't want to blow $300 by screwing it up. We've been there! EMG is offering more info at www.emgpickups.com.
— David Gedge