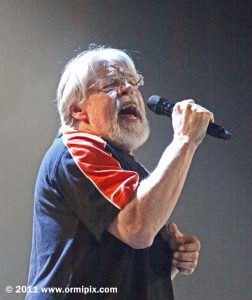 Bob Seger recently turned 66, and readily admits he doesn't like touring. With his hair and beard four-and-a-half-years greyer since the last road trip, and with his "newest" album released in 2006, one could expect a slower-paced, toned-down show. That didn't happen.
There were no early-bird specials for this old man Saturday night at the Allstate Arena. Seger hit the stage a little after 9 and kept the loyalists on their feet for most of the night. The kids were left at home for this show, which packed the hollow-roofed barn and left even the security guards parking in the auxiliary lots. Segar and his powerful Silver Bullet Band ran through 25 hits and topped them off with a double encore.
Seger started the night with "Roll Me Away" and worked his way into jukebox and movie hit "Old Time Rock And Roll" before the Tom Waits cover "Downtown Train." It's this song that has past history with Seger, as he recorded it in 1989 but Rod Stewart beat him to the charts with his own version. A song that's better suited for a smaller venue, the lyrics got lost somewhere near the center-ice scoreboard stowed in the rafters. (It's not his fault, it's just that sound goes to die at the Allstate Arena.) Alto Reed and the Motor City Horns were stellar all night, but they let it all hang out on "Travelin' Man." He then reached back to his first single from 1968, "Ramblin' Gamblin' Man," and finished up the first 12-song set with "Beautiful Loser."
After a quick breather, he ramped things up with cuts from Night Moves, "Come To Poppa" and "Sunspot Baby." A few songs later, in his roadworn and raspy voice, Seger sat behind the piano and gave credit to the Robert Redford flick The Sting for the inspiration on the song "We've Got Tonight." The night then appeared to end with "The Horizontal Bop" rolling into "Katmandu."
If anyone was counting songs, there weren't too many left out of his discography. The band came back out for "Against The Wind" and "Hollywood Nights," and continued in the second encore with the high-school reminisce "Night Moves." "Rock And Roll Never Forgets" sent the crowd into the rainy night, close to 11:30.
Seger's show, while it's a large production on a big stage, isn't a polished West Coast act that looks good on video. He's your uncle at your cousin's wedding who always gets up with the band to show the family he had some game, back in the day. In Seger's case, he's a suburban dad with teenagers to impress and happens to have his own jet. With six dates left on this tour it's rumored that he might call it a career. But, for all the energy and bouncing around he does on stage, he seems like he's still having a great time. Maybe it's the time between tours that keeps singing the same songs fresh but whatever it is, it still works.
— Brian Ormiston
Category: Featured, Live Reviews, Weekly