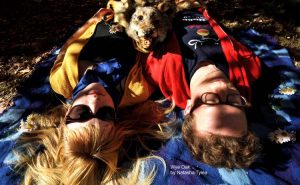 Wye Oak and Funeral Party are in town this month, and we also have Burzum, Edwyn Collins, Human Improvement Process, Green Day, and Frank Sinatra for you!
BURZUM
Fallen
(Candlelight)
As a convicted murderer and violent racist, no other black-metal savant has gone further to contrive his image and thus discredits his music as mere sideshow. Varg Vikernes, who records as Burzum, has spent his entire career trying to resurrect Norway's pagan past and now finds himself trying to salvage his musical career post-incarceration. Following 2010's return-to-guitars Belus, Fallen likewise does away with the dark-ambient motif of his prison years. He screeches the lyrics in his native tongue, so admittedly it's difficult to assess that portion of the recording, but the guitars and drums almost majestically ignore the genre's most tired cliches. Sure, nearly every single guitar part is trem-picked or arpeggiated, but when the punishing meter drops out to reveal a straightahead 4/4 rock beat on "Budstikken," you begin to feel there's hope for him yet. — Steve Forstneger
EDWYN COLLINS
Losing Sleep
(Heavenly)
2010 was a pretty good year for Edwyn Collins. His seminal work with Orange Juice got released for the first time in the U.S., 25 years later. And five years after suffering a debilitating brain hemorrhage in his London home, he tracked his official comeback with some of England's most famous musicians, including Johnny Marr, members of Franz Ferdinard, The Cribs, and his son, William, who stuck by his side during a most difficult road back. Losing Sleep is the kind of record you'd think a Scotsman coming out of physical (and mental) rehab would make. It's full of self-doubt ("What Is My Role?") and a promise for the future ("I Still Believe In You"). Fortunately, his previous incarnation as a post-punk/Motown shaman remains intact. Losing Sleep sounds like it could have been co-produced by Berry Gordy and Malcolm McLaren. What's missing is the supreme self-confidence that his earlier quirky and soulful albums like Hellbent On Compromise and Gorgeous George contained. Like a pitcher coming back from Tommy John surgery, Losing Sleep is Edwyn Collins' first rehab start. You know soon he'll be back in form. — John Vernon
WYE OAK
Civilian
(Merge)
Wye Oak are nothing if not great at sounding mysterious. The duo are a musical quilt of influences (Cocteau Twins, Sonic Youth, shoegaze) that conspires to create a mood that is at once welcoming and full of menace. Jenn Wasner's vocals feel otherworldly, as if they floated in from a million miles away. On "Two Small Deaths" they are swallowed by a murky universe of instruments that, at times, are difficult to discern from the white noise that envelops them like a creeping fog. Cryptic titles like "Fish" and "Plains" contain melodies as subversive as their monikers. They penetrate the subconscious, revealing themselves quietly over time like an epiphany. And although you're never actually sure what Wasner is singing about, there is no doubt the subject matter is shrouded in pain and darkness. — Curt Baran (April 7th@Schubas).
FRANK SINATRA
Best Of Vegas
(Concord)
For those who don't want to shell out the big bucks for the four-CD/DVD set Sinatra: Vegas, this single-disc summary provides a sampling of shows at The Sands in 1961 and 1966, Caesars Palace in 1982, and The Golden Nugget in 1987. While the first two sessions sound marvelous strung together with Ol' Blue Eyes in top form belting out "The Lady Is A Tramp" and "I've Got You Under My Skin," the two-decade jump isn't as seamless. Though still strong, Sinatra's slipping a bit by "All Or Nothing At All" and sounding even more weathered during late-'80s takes of "Pennies From Heaven" and "Angel Eyes." — Andy Argyrakis
GREEN DAY
Awesome As Fuck
(Reprise)
As a description of the band and/or the music itself, this album's Walmart-unfriendly title is either comic hubris or self-delusion. "Awesome"? This? But as a reaction to the ride on which Billie Joe, Mike, and Tré found themselves when they recorded these 17 intensities in 16 cities, it's understandable and just the shibboleth to let the inarticulate hordes for whom they speak know that, even while pushing 40 and with a Broadway musical just around the corner, they're still American idiots at heart. 21st Century Breakdown provides five songs, "21 Guns" benefits from the communal vibe, and "Cigarettes And Valentines" makes its debut. What was almost certainly not retouched in the studio: "San Diego, let me hear you scream!" "What's in your heart, Michigan?!" and (twice) "Let's get fuckin' crazy!" — Arsenio Orteza
FUNERAL PARTY
The Golden Age Of Knowhere
(RCA)
East-L.A. trio Funeral Party spent all of 2010 hitting the major music festivals, touring with 30 Seconds To Mars, and making various magazines' "best bands of 2010" lists, so now would seem the perfect time for their debut LP, The Golden Age Of Knowhere. Named after a Cure song, the band come out of the gate with a youthful aggressiveness and energy combined with a surprising musical maturity. The throaty vocals over erratic and building guitars reveal that frontman Chad Elliot paid close attention to Jared Leto, and that the band have listened to a lot of Cage The Elephant, as well. The LP really has no filler tracks, but it doesn't really have a standout single either. (April 30th @ Riviera with Deftones and Dillinger Escape Plan.) — Carter Moss
HUMAN IMPROVEMENT PROCESS
S.T.A.R.S
(The Execution Kolllective)
In the increasingly saturated circuit of grim extreme metal, Human Improvement Process incorporates dub and electronic elements in a mildly successful attempt to differentiate its death/metalcore stylings from its peers. "One Second: Our Eternity" is a dub-inflected, swooshy piano piece that introduces the EP and sets the stage for the saw-toothed guitar riffs and conventional breakdowns of "Ascension Of Silence" that signal the heavy lifting has begun. Despite the opening cut, HIP keeps up the aggressive pounding with a standard metalcore assault, but the sharp, melodic hooks that underpin the "Weight Of Guilt," as it steadily blows up with layers of serrated riffs and buzzing crackle, and the crushing severity of "The Process" shows potential for HIP to stand out in the crowded field. — Patrick Conlan
Due to a production error, these reviews were omitted from the April edition of Illinois Entertainer.