submURGEd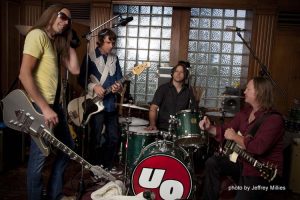 Irony died for a short time after the September 11th attacks, but instead of retro-blossoming into widespread sincerity, we now live in an age of open mockery free from metaphorical disguise. Lady Gaga, Kanye West, and Charlie Sheen walk the media landscape rebelling not without a cause, but against the old order: lampooning the cliches they simultaneously embrace.
Appearing: Friday, May 20th at Bottom Lounge in Chicago.
9/11 was 10 years ago. Ten before that, Urge Overkill occupied a similar station albeit in a drastically less-visible empire. The duo of Ed "King" Roeser and Nash Kato evolved in Wicker Park's desperately serious indie-rock circles, wearing matched suits with garish UO medallions dangling inside their open shirts. Of course they were taking the piss out of mainstream rockers, but also gaily attacking stuffy indie rock's veiled ambitions. Urge were the clown princes of local institution Touch And Go Records, and then flipped former ally Steve Albini's wig when they dashed to the major labels.
They got to have their cake and eat it until 1996, when, inevitably, irony set its sights on them.
"Let's say the only way you can be in a room with someone for 10 minutes is to take a pile of drugs," offers Roeser. "You've got a problem. And it's going to end unhappily. I saw that coming, and as much of a cliche as our flameout was, I thought somebody was gonna die. It was the right thing to do. It was so ridiculous."
Roeser, co-frontman Kato, and drummer Blackie Onassis couldn't handle the success bought by "Sister Havana" and the inclusion of their take on "Girl, You'll Be A Woman Soon" for a key Pulp Fiction scene. Cobbling together a followup proved a struggle, and when DGC finally released Exit The Dragon, the press could tell from the Third/Sister Lovers dynamics that UO wouldn't be around much longer.
It's more or less the reason Urge Overkill's comeback has been muted. The buildup to this month's release of Rock&Roll Submarine has consisted of five years playing the odd abridged tour, street festival, and one-off. No high-end marketing, press blitzes — even the album art was tightly guarded until someone leaked it online. The band released a download teaser last fall with no indication when there would be more.
"When you listen to it," Roeser explains, "it sounds like a band project, and that took us a few years to get to a point where we felt like we could express what we're doing now and still keep the Urge aspect of it. People were urging us to get with it and make a record, because clearly we already had one. I don't know what kind of lightning I was expecting to strike," he laughs. "We probably would have waited with unrealistic hopes like that thing with Jack Black [Tenacious D]: 'The Greatest Song In The World' — waiting for that to happen."
There were other reasons, too. "I think I had waited so long because I had some painful memories about how tragically the whole thing ended. Nobody wants to hear about it or can quite believe, but the process of making Exit The Dragon really scarred me and kept me from wanting to do it again. Why do we do it now? I think we've recovered the sense of fun. It's not easy to make a satisfying record, and I felt we had something to add to the massive landfill of music out there."
So Roeser returns with Kato, "new" drummer Brian "Bonn" Quast (ex-Polvo), and bassist Mike "Hadji" Hodgkiss (Gaza Strippers), light on expectations. "You want people to care. Most of all, I would hope that we're able to come back after a long hiatus and make something in the category of our more classic records. I always figured I was gonna like it. I just hope people have the patience to give it a few listens. The dividends are there. It's built to be heard over several listening sessions."
Naturally, irony strikes again. Despite the baggage Roeser still carries from the Dragon sessions, Submarine sounds very much its successor. The drug epics like "Need Some Air" and "The Mistake" have vanished, but the stripped nature rivals its predecessor's grainy textures, from the naked solitude of "Quiet Person" to the fundamental fact — despite this now being a two-guitar band — only one guitar can frequently be heard in the mix. The title track's verse riff distinctly echoes "And You'll Say," and Roeser's clenched tenacity, while not outnumbering Kato's more gregarious contributions, gives the record its voice.
"These days," he explains, "I think an unpolished document is an achievement versus something that isn't. Because recording time is not really a thing anymore. It's kind of like an aesthetic choice: how much rawness do you keep? Make sure that's what you want rather than redoing everything. We did try some different versions of some of the songs and ended up going back to the demo drum takes. I don't know if that's what made it work but also it's the band playing live and all that."
Not just an aesthetic choice, opting to go with such raw backing tracks is a full-on risk that completely pays off. Reunited bands invariably over do it in the studio because they've spent the interim self-recording and idealizing dated and often flimsy techniques.
"I sort of wish we could have come out with something earlier," he admits, "but everything came out in a good way. We were in the state of mind where we could say, 'We like this,' and not do too much of a thought-out record. The rawness of the sense the record is shambling and intentional. It was compiled over a period of time where we got some new guys in the lineup and actually played as a band. We didn't want to do a specific, coordinated comeback type thing without a record. The challenge, of course, was to try to get something — even though all this time has gone by — that doesn't spit on our grave in terms of the catalog and all that. Something that maybe could remind people of the quality of our previous records, rather than have them say, 'Well, they shouldn't have done this.'"
It's an aspect of Rock&Roll Submarine that Roeser can't stress enough. His concern re: the lack of a knockout single becomes less important the more he explains how the process became paramount.
"We're really overjoyed with this," he enthuses. "I think the main thing for a band like us, that used to keep things loose until we got into a studio — there's not really studio time as such, anymore. We always benefitted from having to commit, like if you don't finish the lyrics and commit to this weekend of finishing your record you're screwed. Hopefully lightning strikes. But now, the way records are done, you can always go back and fix something. Endlessly. Even if you're not in a studio, you can mess with the tracks. But we wanted to stay out of that. That can take the freshness and sense of fun out of a recording. We put in some things that were from the demo reels and happened to be recorded on a tape player where the drums were good enough. So the backbone of [some of the songs] is the first time we played it. For us, that's a great moment when you can capture something as it's still emerging. We didn't work the songs to death, and we've never done that too much as a band."
Roeser's characterization of Urge's old habits might confuse some people, who assumed their 1993 breakout, Saturation, was was calculated to shine. But its frequent interludes always alluded to last-minute inclusions, underscored by the album's increasing freneticism. Submarine, however, makes plain its touch-and-go nature (pun intentional), and piecemeal approach. He admits some drawbacks.
"You go on tour and you start playing a song," he says, "and there's some obvious change to it. You end up saying, 'I can't believe we didn't see this.' But any kind of recording like this, where it takes a while and the job is to sustain enthusiasm, you don't want to be sick of it as you're working on it. We had a demo of 'Mason/Dixon' that was recorded somewhere else over an evening. We liked the performance, but it was unusable because it was done on ProTools and had a sheen we didn't like. We had to re-nail it, and that took a while — we didn't leave ourselves a whole lot of time for mixing. We spent most of the time making enough stuff that we wanted to use, and powered through the mixing: 'This is the deadline; it's done.' 'Poison Flower,' for instance, we had a version that sounded more polished and ended up using some guitars that aren't perfectly in tune."
Unexpectedly, Roeser reveals that another album's in the offing, and that the Submarine might stay in port awhile after it docks.
"We had a song we'd been playing live and thought was gonna be on the record for sure," he says, "but the recording didn't pass muster. Maybe it'll be on the next one. While we were in there, we were thinking we've got all this stuff, it's going well, and it's fun, so we started putting stuff on the backburner. I think we have another one — but I don't want to get ahead of myself," he laughs. "You just got the record, but we've been through it. It's old hat. I've been listening to it for a few months now, and I think the mix is just right. The initial listening might be kind of confusing. You hear something catchy and it sounds really great the first time, and you think it's awesome — that's not a great find for me. I generally like stuff that's a little more dense, and you can't tell right away what's happening. I guess that's the musician in me, rather than just the listener. We were going for quality rather than lowest-common denominator. We like a hooky, pop element, but when we got into the meat of making the record we found the only way we would like it was to abandon all notions of what would sell."
Opener "Mason/Dixon" fits that description. With a tweaked arrangement, it could stand to be a galloping anthem that hails the band's return; instead, its jerky stops and starts and chewy melody signal that you're going to have to work for your rewards. Past cuts like "The Candidate" and "Sister Havana" have convinced critics that Cheap Trick are a major influence on the band, when the payoffs have never been quite so easy. The title track features a surging, Stonesy chorus that would be the album's centerpiece were it not for Roeser and Kato's choice not to add a bubblegum chorus on top.
"We didn't feel like this was the record to do that," he says. "I sort of thought we would have a more obvious breakout song on it, but I don't think that's the case. They're all pretty diverse, but that genre we'll leave up to somebody else. We didn't try to do it and it didn't really happen. We have more ideas that are gelling, and we'll just try to keep the fire."
Kato was the only Urge member to consummate a solo project, issuing Debutante in 2000, which also happened to be around the time the music industry would have its eyes opened by the Internet. The 11-year interval has proven a tough climate for active musicians much less those biding their time and waiting things out.
"I honestly don't know what to expect," he says about Urge's aims. "I'm pretty pessimistic about the importance of records — in terms of the way people live now, versus the '90s. Music is so easy to get now, and if you've experienced the age when rock really mattered, it's just different. I could see if you're just starting out with music and all you've ever had was an iPod, that's great. But I think music was a little more sacred and scarce — a little harder to get to. I still remember making a purchase, what record you were going to get when you were a kid was a big deal. It wasn't this salad bar situation. You were making a statement when you bought something. We have to approach our band in that way."
— Steve Forstneger
For the full interview, grab the May issue of Illinois Entertainer, available free throughout Chicagoland.