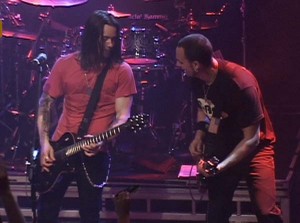 Myles Kennedy is a rock star, but doesn't seem to know it yet. Alter Bridge rose from the ashes of Creed in 2004 after the embattled Scott Stapp nearly self-destructed and turned the band from one of the most-loved to most-hated acts around. Mark Tremonti and bandmates were committed to keep making music, and ended up making a wiser move than anyone anticipated by choosing the relatively unknown Kennedy to front the band. But Kennedy's work with Alter Bridge has quickly elevated him to superstar status — at least in the eyes of his peers. Slash chose him to be the lead vocalist on his recent tour, and he was up to the challenge of leading songs originally recorded by other legendary vocalists. Then Led Zeppelin tapped him as their lead singer in their near-reunion-tour. But even better than Kennedy's phenomenal rock star talents, is that he simply doesn't act like one.
As Alter Bridge invaded the House Of Blues Monday night in Chicago, Kennedy played and sang through the entire set like a laid-back guy just having fun playing in a local band. He laughed when facing sound challenges, chatted personally with the crowd, and never strutted around stage like an attention-hungry rock god. Instead, Kennedy captivated the fans with his stratosphere-soaring vocals that never touched the ground through the 100-minute set. That, combined with Tremonti's ear-splitting riffs, enveloped the standing-room-only crowd with pure unadulterated hard rock.
The quartet rocked through songs from all three of its LP's, including 2010's ABIII. The crowd sang along to all the big hits ("Before Tomorrow Comes," "Ties That Bind," "Buried Alive"), and enjoyed deeper cuts like "Metalingus" and "One by One," which Kennedy dedicated to "all our soldiers serving overseas for our freedom," which provoked the crowd to chant "U-S-A" (it was the day after the announcement of Osama Bin Laden's death). The show closed with Kennedy plucking out The Beatles' "Blackbird" on guitar, followed by their early career hit "Open Your Eyes." The encore included new hit single "Isolation" and the inspirational "Rise Today," along with a "guitar duel" between Tremonti and Kennedy, in which Kennedy surprisingly held his own, showing his talents go beyond mere vocals.
Openers Like A Storm brought plenty of energy with their in-your-face Brit-rock, but their whole persona seemed a bit too premeditated, like a rock band out of a movie. Each band member was dressed nearly identically in a generic "uniform" (all black, leather jacket, wallet chain, etc.), each had a different color hair, and the crowd-interaction consisted merely of shouts of "Chicago!" and "Who's excited to see Alter Bridge?" But musically, the band held its own.
Second openers Black Stone Cherry provided much more entertainment and maturity with their Lynyrd Skynyrd-meets-Korn rock. Lead singer Chris Robertson is a dead-ringer for Jack Black in look, persona, and even musicality, and he knew how to work the crowd, including leading them through a few choruses of Tom Petty's "You Don't Know How It Feels."
— Carter Moss
Category: Featured, Live Reviews, Weekly