Target On Her Back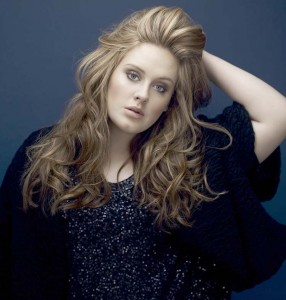 As of this writing, 21 — the sophomore set from bluesy British belter Adele — has just gone platinum, and is currently sitting pretty at the pinnacle of Billboard's album chart. And, believe it or not, she's actually the first artist in 2011 to sell more than a million copies. In her native England, 21 occupied the top spot for so many weeks, it dragged her three-year-old debut, 19, all the way back up to the second slot — a feat unequalled since Ireland's Corrs achieved it way back in 1999.
Appearing: Tuesday, May 24th at Riviera Theatre in Chicago.
Aesthetically, 21 (Columbia) deserves all the kudos. Kicking off with the stomping gospel-flavored single "Rolling In The Deep," co-penned with Paul Epworth. Her current overseas smash, the breakup-themed "Someone Like You," is a gorgeous piano ballad that captures the rasp-throated singer at her evocative best. And for the rest of the set, Adele teamed up with such stellar co-writers as One Republic's Ryan Tedder, ex-Semisonic leader Dan Wilson, and London's new go-to collaborator, Francis "Eg" White. She also does great renditions of The Cure's "Love Song," and — for a special bonus-disc edition sold at Target — Lady Antebellum's "Need You Now," in a duet with former Hootie & The Blowfish growler Darius Rucker.
But promotion-wise, Adele (who performs sans surname of Adkins) has really put in the nerve-wracking hours to make this disc a hit. In the dead of winter, she recently flew to Target headquarters in Minneapolis — where Best Buy also happens to be located — for a private executives-only concert. "Target and Best Buy are a massive part to do with me," explains the Grammy winner, who will soon turn 23. "So of course I'm gonna go see them. And I saw both of them at the same time, but at separate meetings. And you should've seen the plane I had to get on! The plane was so tiny, and I'm the worst flier. So to go to Minneapolis, to play for Best Buy and Target, I literally had to get on a Flintstones plane, an American Eagle. It was horrible!"
What, exactly, is an audience of Target bigwigs like? Adele cackles with delight. "They. Were. Wild. I mean, wild. The first time I went on the last record, I was in a tiny office with about four people. This time, I was in a 500-capacity room and about 1,000 people turned up. And it was like performing to a roomful of gays! It was amazing — they were all cheering and whooping. It was crazy!"
And Yes, Adele adds, knowing what you're thinking before you ask it. "I've been to an actual Target store. I bought a jumper there for quite cheap, a sweater, and it was lovely. So I really like Target, and that's where I go and do my shopping when I'm on tour." And even though the chain has exclusive rights to 21's deluxe edition, she says, "They're not gonna give me any freeblies because of that. So I don't get anything, no deals. But I don't believe in paying less for things when you can actually afford them."
Indeed. Things have been going well for this young artist. Thanks to the breakthrough success of 19 and its flagship smash "Chasing Pavements" (written, of course, when she was only 19, fresh out of the BRIT performing-arts school), she was able to finally move from her mother's house into her own brand-new apartment, and purchase mom a car on the way out. "And I do love a bag, so I don't mind spending any amount on a good bag," she says. "And I've also got about 5,000 CDs. The thing is, if I love an album, I buy it digitally and physically. I try to make up for the fact that some people aren't buying it." She's also given up drinking, and received a new sense of self-worth in return.
And according to Adele, two key factors went into the making of 21. On tour through the American South a year ago, her bus driver kept bombarding his charges with country music. The Etta James fan resisted at first, but gradually fell into the loping groove. "And I was like, 'Who the fuck is this?' I'd never heard it!" she recalls. "Like Garth Brooks. I'd never heard of Garth Brooks up until about 15 months ago. So I got into Garth Brooks, Loretta Lynn, early Dolly Parton, The Carter Family, Johnny Cash stuff. I just found it fascinating, and it just resonated with me straightaway, because it's got that storytelling and honesty that I love. But I'm more intrigued by it because it's not part of my culture in England. I mean, if I mention any one of those artists to anyone in my family — apart from Johnny Cash and Dolly Parton — they'd be like, 'I have no idea what you're talking about — who are they, your friends?' They'd have no idea."
— Tom Lanham
For the full interview, grab the May issue of Illinois Entertainer, available free throughout Chicagoland.