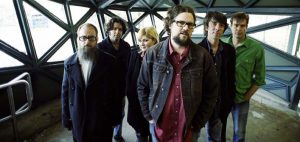 Drive-By Truckers hit town for two shows this weekend, and hope you don't mind if they come out wearing their Go-Go Boots.
Through 10 albums in a dozen years, Drive-By Truckers amassed quite a body count. Whether the action was by their own hands ("The Man I Shot") or off screen ("Danko/Manuel"), the South they've exhaustingly rendered has come to rival Detroit in the summertime. Fairly or not, the lethal designs of desperate narrators have become DBT's calling card, reducing a wealth of gripping character studies to the base violence that makes headlines.
This being February, it's somewhat compulsory to talk about intimate love, which is not a topic to which the Truckers are strange. Usually it's distanced with jocularity ("Women Without Whiskey"), when not presented as an obstacle ("Two Daughters And A Wife"). But on their 11th record, never before have they provided a portrait of such unfettered, undisturbed devotion as "I Do Believe." It's Patterson Hood's ode to his mother, but still it sets the tone for Go-Go Boots (ATO). Later, he's straightforwardly gushing how "everybody needs love, love," and Shonna Tucker goes out walkin' after midnight to find her Eddie and give him all the love she can spare. Guitarist Mike Cooley, who's authored such harrowing tales as "Cottonseed" and "When The Pin Hits The Shell," turns in a love song as well with his first turn at the wheel: "I think about you when I can/and even sometimes when I can't, I do."
Musically, it's as if they never stepped out of their sessionist shoes from backing Mavis Staples and Booker T. With nary a power chord after the opening number, each track sympathetically caters to the vocals, with tasteful guitar fills making way for glowing Hammond bouquets and silky slide runs. Even on a succession of Hood tales that seem like he'll keep talking 'til someone shuts him up ("Assholes," "The Fireplace Poker," "The Thanksgiving Filter"), the band patiently hang back and let the raconteur spin his yarn.
Granted, the title track is another one of Hood's deviant/fatality bum-outs, a la last album's "The Wig He Made Her Wear," and a smirking Cooley sets "The Weakest Man" to the melody of "Grandma Got Run Over By A Reindeer." But by opening up something other than their amplifiers, Drive-By Truckers have outstripped and transcended all the bands that influenced them. And only two people had to die for it to happen. (Friday and Saturday@Vic Theatre with Heartless Bastards.)
Steve Forstneger
Category: Featured, Stage Buzz, Weekly