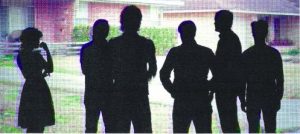 If you long ago dismissed the Grammys (or are an Eminem fan) you were likely surprised that Arcade Fire took home Album Of The Year last night. If you long ago dismissed the Grammys, you believe everything happens for a reason (a.k.a. the fix is in).
Most conspiracy theorists will tell you the "academy" — whoever they are — refused to acknowledge Eminem, whom they consider a contemptible, vulgar annoyance. Even the feelgood backstory of the rapper's Recovery from prescription-medication addiction wasn't enough to overcome his hyper-violent, unapologetic image.
All well and good. But it doesn't explain why Arcade Fire would triumph also over Katy Perry and the Ladies Gaga and Antebellum. The media's early coronation of Eminem as favorite strangely overlooked the Gaga juggernaut, especially after the recording academy changed its rules to coattail artists like her. Perry and Antebellum similarly dominated the charts over the summer, though, it's doubtful Perry was ever under serious consideration and was a cheap ploy to boost ratings. Arcade Fire debuted at the top last summer, but aren't nearly as exciting as they were five years ago.
If you're to give voters a benefit of the doubt, they simply chose the least of four evils. None of these albums were particularly great, understand. Even if Eminem had won, the build-up considered it payback for a career previously ignored outside of the rap categories, and not an honorific paid to a masterwork. Gaga's Fame Monster was only a mini album, a sweetener packaged along with her debut to increase saturation during Christmas-shopping season '09. Going with Antebellum so closely after Taylor Swift's sweep in '08 would have lended too much credence to manicured "country" pop, though their success in the single/record categories surprised many. Even Arcade Fire's The Suburbs slogs in comparison to the Montrealers' first two albums — its sequencing completely ungainly.
The most logical conspiracy is one that came to light after Norah Jones' big wins nearly a decade ago. The feeling then was that the "industry" was signaling its intent to go after older listeners who — while the RIAA sued filesharers — still bought records, but album sales are a thing of the past. Maybe we'll start seeing wider recognition of artists reflected in the articles of Pitchfork, Spin, Paste, the Pazz & Jop poll, and, to a degree, IE. Why? The Grammys can rebuild a ragged reputation around an ascendant genre with fans who have disposable income and go to concerts. (That they also buy records doesn't hurt.)
Or maybe last night was a total fluke.
— Steve Forstneger