New: The New New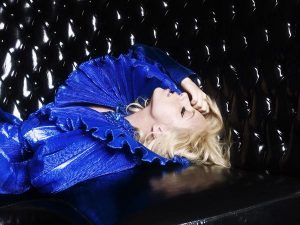 We all remember the consternation when Sergei Makarov took home the NHL's 1990 rookie award at age 31. An age mandate was added (the Makarov Rule) and, incidentally, an Igor Makarov will be trying to make the Blackhawks this fall. Anyway, the Grammys has endured similar bouts of hand-wringing and finger-pointing over its Best New Artist trophy, one that — apart from the Milli Vanilli fiasco — saw a win for Shelby Lynne's sixth album in '99. Last year was the final straw, apparently. Tired of Mix 101.9 listeners who sneer "Well I've never heard of them," a prior nomination in another category (but not a win) won't preclude a newbie nod. This is the Lady Gaga Rule, because despite five noms last winter, the phenom was denied eligibility as BNA because her debut single scored a nomination the previous term. Can you imagine? I. Know! Now she can't follow Arrested Development, Hootie & The Blowfish, Adele, and (last year's winner) the Zac Brown Band directly into the dustbin.
No Inferiority Complex Here
In keeping with their "haven't watched ESPN in seven years because of Yankees/Red Sox overload" attitude, our Midwestern bretheren don't think Lollapalooza and Pitchfork fests are enough and have thus entrusted North Coast Music Festival to alleviate their flyover-country misgivings. On Labor Day weekend — when no one has anything going on, ever — Jam Productions invites you to Union Park for the ultimate jam, starring The Chemical Brothers, Umphrey's McGee, Nas with Damian "Jr. Gong" Marley, Paul Van Dyk, Moby, De La Soul, The Disco Biscuits, and more. Pretty soon, you'll never need to go to a club show ever again because of festival season. And if you so much as look at the calendar to see when Coachella is next year, it's over and we're taking the kids to my mother's. Visit Northcoastfestival.com for discounts and such.
Taking Stock
One of the biggest misconceptions brought out of the '90s was that in order to pay homage to Woodstock's legacy, you need to hire Fred Durst and Limp Bizkit to start burning things down. That standard almost came into play again this year; fortunately the Nookie monster has canceled his tour to find out where (if any of) his fans are left. All the better, because if you want to relive the summer of '67 in style, why not head near a stage in a field starring Grateful Dead alumni Tom Constanten and Bob Bralove on the 27th and 28th at Vasa Park in South Elgin? Others in attendance include Mr. Blotto, Terrapin Flyer, This Must Be The Band, Cosmic Railroad, and Juniper Mays, who'll have a special medical tent arranged in case of any bad drugs or accidents caused by fits of nu-metal rage.
Summer's Over – Forever
Live music has mimicked the spastic rise and fall of unemployment figures over the past 18 months — things are great! things are awful! — making us wonder if the stats mirror reality or an over-analytical computer program. Investors dumped Live Nation shares like Mel Gibson in mid July, jittery about the facts of a dry concert season. Lilith Fair (despite IE's overbearing efforts) nearly merited its own cancelation, while sluggish sales and a handful of actual cancellations (including the postponed U2 tour) led to an 11-percent decline in stock price. For his part, super-agent/Ticketmaster-honcho Irving Azoff chided "shortsighted" investors during a shareholder meeting, though Live Nation CEO Michael Rapino expressed hope that it's just the down economy giving them grief. The morale is, go to shows now because there might not be any to go to tomorrow.
Just Rock It
Forty years ago, Herbie Hancock infuriated jazz critics by straddling an acoustic-jazz/rock-fusion fence. A Chicago-reared piano prodigy, he joined Miles Davis' band at the exact wrong time (as far as conservative fans were concerned), going electric and throwing away his gifts under the influence of heathen rock 'n' roll. Where did it all get him? Today he's . . . Santana. Back in June, he followed up his shock Grammy win for River: The Joni Letters with The Imagine Project — duets with Dave Matthews, Jeff Beck, John Legend, Seal, Pink, Chaka Khan, and Susan Tedeschi. Few of them will be along when he comes home to play Symphony Center on the 21st, probably because no one knows who the real Herbie Hancock is anymore. And don't be surprised if he covers "Smooth."
— Steve Forstneger