With The Help Of My Friends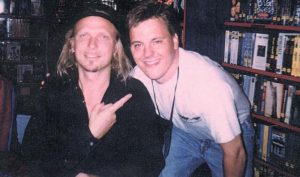 For the past 20 years, the Rainbow Foundation Music Inc. has staged a series of benefit concerts, rock 'n' roll auctions, and toy drives to help Chicago-area children and families in crisis. Along the way, the organization has staged shows with a who's-who of local and national classic rockers, raising thousands of dollars for those struggling to pay medical bills, dealing with the aftermath of a tragedy, or partnering with other organizations like the American Heart Association, Pizza 4 Patriots, and the Padre Pio Foundation Of America to distribute additional aid.
"The idea came after watching a Children's Miracle Network telethon when I was in high school," recalls founder John Schenk, "and our first major event was at The Odeum with The Romantics, Derek St. Holmes (Ted Nugent Band), and members of REO Speedwagon. Since it was my first time promoting a concert, the turnout was pretty low, but my parents were really supportive of the effort and made sure I had the freedom to try again."
Throughout the next two decades, Schenk set his sights even higher as he learned the ropes of simultaneously running a nonprofit and hosting concerts by a means of trial, error, and improved execution. He also scored an early boost in confidence from Motley Crue's Vince Neil, who donated a signed guitar for an auction.
"I was 21 at the time, and his manager came and got me and brought me onto his bus," he recalls of a pivotal post-concert encounter. "He asked me all sorts of questions and showed so much interest that we talked for a half hour and he gave me his business card at the end. He was the first mega star who took interest, and each time someone did from there on out, it just added fuel to the fire."
As the years passed, the foundation's résumé collected autographs from Pete Townshend, Kiss, Cher, Dick Clark, Keith Urban, Brad Paisley, Jessica Simpson, Styx, Journey, Foreigner, Buddy Guy, and countless others. The concert end evolved as well to include original Beatles drummer Pete Best, Denny Laine (Wings), Johnny Van Zant (Lynyrd Skynyrd), Jim Peterik (Survivor, Ides Of March), Kevin Chalfant (The Storm, Two Fires), Pete Way (UFO), Rik Emmett (Triumph), and Spencer Davis.
"We hosted a George Harrison tribute at House Of Blues and got coverage from CNN to Rolling Stone and we were also asked to help pay tribute to The Station fire victims [following the fatal Great White concert] in Rhode Island with Tesla and Shinedown," he says of other memorable gigs. "And for our 20th anniversary concert with Firehouse and Paul Chapman [of UFO], we had a girl named Jessica host, who was one of the Rainbow Foundation's first beneficiaries. She was hit twice by a car in Bartlett when she was 3, but wound up surviving and we were able to connect with her again 16-years later. That's the power of our foundation: we're dear to their hearts and it's more than just a chapter in their story."
The latest page in the organization's history finds Schenk and executive producer/brother Bill compiling a CD album, spearheading a multi-artist nod to Tommy Bolin, the solo star who also logged time in Deep Purple and The James Gang before dying of a drug overdose. But rather than a traditional tribute, Mr. Bolin's Late Night Revival benefits the Jackson Recovery Center (a rehab facility in his hometown of Sioux City, Iowa) featuring a diverse cast that put their creative stamp on unfinished Bolin demos. Contributors include St. Holmes , Eric Martin (Mr. Big), Jeff Pilson (Foreigner, Dokken, Dio), Doogie White (Rainbow), Kimberley Dahme (Boston), Randy Jackson (Zebra), Robin McAuley (McAuley Schenker Group, Survivor), Troy Luccketta (Tesla), and Chuck Giacinto (Two Fires), plus Bolin's brother Johnnie, who, aside from a member of Black Oak Arkansas, also served as creative consultant.
"The songs were found in the back of an amplifier several years after he died, by a guy his family sold the amp to," Bill Schenk explains. Some tracks previously surfaced in their Bolin incarnations in the From The Archives series in the '90s, and "of that, there were probably 30 unrecorded but professional songs of high quality with great lyrical content, great melodies, and interesting chord progressions. Tommy had a way of working where he let the songs grow organically and he always tried to capture a mood and vibe with the picture he painted. We asked the artists who contributed to this project to take Tommy's approach, but breathe their creativity into it because that's what he would've asked them to do."
The results find the contributors running the gamut from classic rock to blues, jazz, reggae, and soul, in turn illustrating Bolin's boundary-breaking musical explorations. Even more poignant than the performances are the lyrics, which glimpse inside a troubled musician who died at 25. "The songs document his struggle with addiction," notices Bill. "A song like 'They're Gonna Let Me Die' seems like a cry for help, but back in those days, there really wasn't anywhere to go. That was before the Betty Ford Clinic, so what he did was write songs and it proved to be very powerful."
Fittingly, Rainbow Foundation Music will channel proceeds to the Jackson Recovery Center, though rather than merely writing a check, the Schenk brothers hope Mr. Bolin's Late Night Revival will inspire others out of compulsion's clutches. "Since he died of a drug overdose, we wanted to find a charity that ties in with that and it just so happens that his hometown has one of the biggest drug rehabilitation facilities around," muses John before Bill interjects, "Tommy was extremely charismatic and talented in an inspirational way, but his career was cut short. The idea behind this project is to showcase someone who gave us a part of what he had, but also had so much more potential. He was such a special person and hopefully this album will answer 'what if?' to what these songs might have been."
— Andy Argyrakis